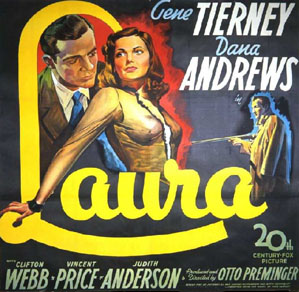 She was beautiful and I was terrified of her.
— Nancy Macdonald's memory of the young Mary McCarthy
So far as I know, the lives of Mary McCarthy and Otto Preminger did not overlap in any significant way. They worked in different art forms, moved in very different circles, and had quite disparate interests. But they had one important quality in common. At the center of both The Company She Keeps and Laura lies a distinctive and powerful conjunction. In each we see a fascination with the sexual freedom experienced by well-educated, career women living in New York City. And in both texts, the glamorous and possibly disturbing implications of that freedom are viewed from a narrative perspective that is striking for the analytic distance and emotional neutrality it maintains toward its subject matter. In short, passion viewed dispassionately. Hot and cold.
Though they're not often compared, McCarthy and Preminger have often been recognized by their respective critics for this unusual combination. And both artists fought tenaciously (they were both quite belligerant) to keep these qualities at the front and center of their careers.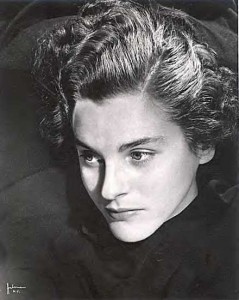 McCarthy's admirers and her detractors, of which there have been many, return frequently to these qualities. Accounts of life among the "New York Intellectuals," where McCarthy was the very rare powerful women in a highly masculine world (a "circle of bullies," the writer Elizabeth Hardwick later called it), always speak of McCarthy as the siren of the group–an alluring sexual adventurer who went through husbands and partners with abandon.
Such comments, made by women as well as by men, have often been mean-spirited and sexist, but to a degree they overlap with the way McCarthy described herself. In her own memoirs, for example, McCarthy recounts sneaking out on a date at the age of 14 and losing her virginity in the front seat of a car to a man nearly twice her age. At 16, she recalled, she had become the sexual partner to an older painter for whom she modeled. In New York, where she arrived after attending Vassar, McCarthy was twice married–first to the actor Harald Johnsrud and later to the eminent literary critic, seventeen years her senior, Edmund Wilson. Between these marriages, McCarthy lived for a time with the editor and essayist Philip Rahv, a bold and unorthodox arrangement in those days. By her own account, between these serious relationships, and sometimes during them, she had many brief liasons — including, at one point, different partners daily and several partners in a single day. All this was by the time she was 26. Following the end of her bitterly tumultuous marriage to Wilson in 1945, McCarthy went on to wed the far less impressive young aesthete Bowden Broadwater in 1946, when she was 34, and subsequently divorced and then married again in 1961, this time to the American diplomat James West.
In McCarthy's accounts, she was often a bold partner in these relationships, but she very rarely describes sex as bringing her pleasure. As Susan Sontag commented, "there's no sensuality in her writing." Typically, McCarthy refers instead, as in "The Man in the Brooks Brothers Suit," to her feelings of "shame and guilt" and to her awareness of the power dynamics that sex can involve. Her readiness to treat such matters with the frankness and clarity she did made her something of a sensation in the 1940s and later. The writer and editor George Plimpton recalled reading "The Man in the Brooks Brothers Suit," when it first appeared in Partisan Review in 1941. He was a sophomore at Exeter at the time. He claimed that the experience of reading McCarthy's story was as stunning as the news of the bombing or Pearl Harbor later that year.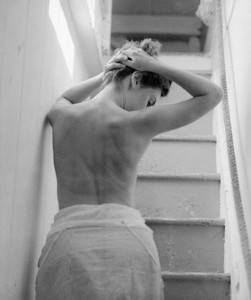 Almost as frequently as they mention her beauty and sexual enterprise, however, McCarthy's critics draw attention to the satirical edge of her writing and to the dispassionate and often cruel analysis to which she subjected nearly everyone she encountered, most especially herself. A number of critics have seen this as a weakness in her writing, claiming, for instance, that a lack of empathy or imagination made her a better essayist than novelist. But, here, too, McCarthy's self-image was pretty much in line with what others reported of her. Her second collection of stories (published in 1950) was titled with a line drawn from W. B. Yeats–"Cast a Cold Eye."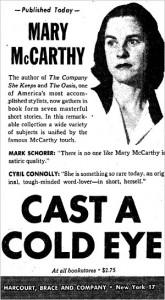 That's typically what McCarthy did. She distrusted more than anything else the dangers of cant and of emotional manipulation. (Because she saw such qualities in their work, for example, she scorned J. D. Salinger and Tennessee Williams. By contrast she loved Vladimir Nabokov and Hannah Arendt for the deep learning and formal rigor that informed their work.) If she often cast herself as a bold sexual and psychological adventurer, she just as frequently emphasized her critical intelligence, her intellectual seriousness, and her bottomless appetite for work. This was a woman, after all, who published some 28 books over the course of a six-decade career as a novelist, critic, essayist, memoirist, and translator. When she went on vacation later in life, McCarthy would organize her neighbors into a "Cercle Francaise" and spend her Saturday nights with them translating Pascal and Montaigne.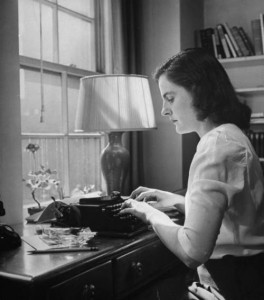 Preminger was a similarly driven and intensely serious artist. His 35 films, made over the course of a career half-a-century in length, are comparable in sheer number and range to the many books authored by McCarthy. Like McCarthy, too, Preminger was an ambitious and often difficult person. He was notorious in Hollywood for demanding endless days on the set and for bullying actors into submission. "I do not welcome advice from actors," Preminger once commented, "they are here to act." During the filming of a scene in Saint Joan in which Jean Seberg as the title character is to be burned at the stake, the stacked wood at her feet unexpectedly caught fire. To the horror of others on the set, Preminger reportedly refused to allow the fire to be doused until shooting was completed.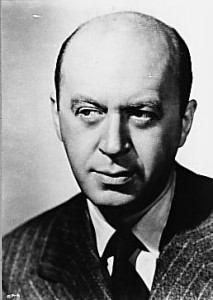 Like McCarthy, in short, Preminger was arrogant, willful, and unbendingly committed to realizing his artistic vision. He was among the small group of Hollywood directors for whom French critics created "auteur" theory–the once prominent idea that the director is the author of his movie and creatively responsible for the manner in which each of its elements contributes to the realization of a unified work of art. In Preminger's case, the theory had a degree of plausibility. With Laura, for example, Preminger was intensely involved in every aspect of the production. He convinced Daryl Zanuck at Twentieth-Century Fox to acquire the Vera Caspary novel on which the film was based. Working with a stable of writers, he then thoroughly transformed Caspary's story. He played a critical role in selecting the film's celebrated score (by composer David Raskin), in deciding on the movie's brilliantly successful casting, in shaping the actors' performances, and in arranging for the portrait of Gene Tierney that plays such an important role in the film. Working with Joseph LaShelle, he played a major role in shaping the film's Oscar-winning cinematography. Laura was Preminger's first major Hollywood success. He was certainly not the only creative force contributing to its realization, and indeed the film probably reflects the influence of several creative personalities (Zanuck, Caspary, Raskin, at the least) who battled with Preminger to assert their competing views of its narrative. But Preminger's fingerprints are on every one of its major features, and the film clearly reflects his vision.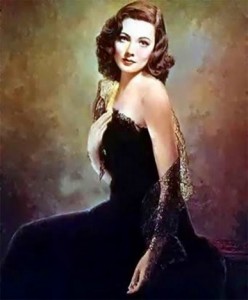 Somewhat like McCarthy, Preminger's imperiousness corresponded with a willingness to push against the borders of polite expression. Though less dramatically then The Company She Keeps, Laura prodded sexual taboos of the era–qualities that identified it at the time as a New York story. (Though Zanuck wanted Laura to be an innocent girl trapped in a web of gothic machination and Caspary thought of her as a "modern woman" who "enjoyed her lovers," Preminger described her as a "whore" and as a woman who, in effect, was willing "to pay a gigolo" for services. Everyone involved in the production understood Waldo Lydecker to be homosexual. Zanuck, who had to be convinced to hire the Broadway actor Clifton Webb to play the part, complained that Webb didn't walk, "he flies.") In later years, Preminger would form his own production company so as to take on big-budget projects that treated subjects (sex outside wedlock, rape, drug addiction, homosexuality) that at the time were regarded as too risque for Hollywood studio productions. The New Yorker critic David Denby refers to Preminger's "tyranny . . . in the service of liberalism, tolerance, and the free exchange of ideas."
Like McCarthy, too, Preminger consistently treated these charged subjects in a manner that created a sense of analytic distance from the desires and needs that rule the films characters and often with an emphasis on the moral ambiguity of all involved. His signature cinematic style emphasized long takes and dramatic compositons that place several characters in the frame, so as to emphasize their conflicting aims and interests. Very rarely does he provide close-ups or point-of-view shots that would encourage the viewer to identify with one character. As the critic, David Thompson notes, the style is "implacably objective." Referring to the moral ambiguity that can result from this approach, the director/cineaste Peter Bogdanovice says that a Preminger film is "a trial in which the audience is the jury."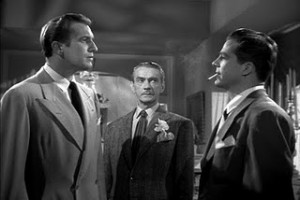 So, despite their very substantial differences, there is a broad similarity between McCarthy's Company and Preminger's Laura. Each views a small world of Manhattan sophisticates and treats their passions and intrigue with analytic dispassion. Indeed, the relation between desire and intelligence is a central concern for both artists.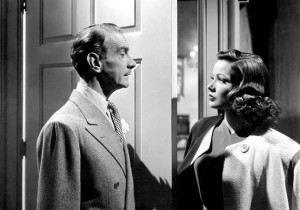 The connection may be most evident in Laura. As many critics have noted, Preminger's directorial assertion not only shaped the film; it is something near to the movie's main theme as well. For, the movie is a pygmalion story, and the effort of several men, especially Waldo Lydecker and Mark McPherson, to make Laura the ideal object of their competing desires, is its central concern. Is critical intelligence in this case a way to free oneself from the entanglements of desire? or is it an adjunt of desire? How should we evaluate Lydecker? McPherson? Preminger, himself? And are there any good options for Laura herself in this world?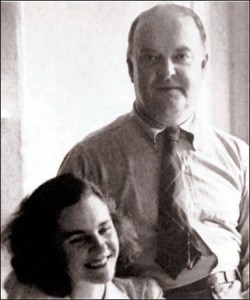 McCarthy was herself sometimes called a Galatea figure. She first began writing fiction at the urging of her husband Edmund Wilson, with whom she had a horrible marriage. And her detractors have sometimes accused her of seeking our powerful men like Wilson who could advance her career. Are there comparisons to be made between Laura and Meg Sargent in this context? is Meg like Laura or different from her? And where would the differerences lie? Does McCarthy have a different view than Preminger of women's opportunities for autonomy and sexual freedom?