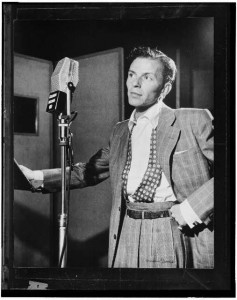 One topic we didn't discuss fully when considering On the Town is the variety of interesting ways the move was intimately related to the world it depicted.   As mentioned in class, On the Town was first a Broadway musical featuring music by Leonard Bernstein, lyrics by Comden and Green, and choreography by Jerome Robbins–all budding young stars who in the decade to come would become household names.  The movie was a vehicle for Gene Kelly, of course–who had first burst to fame in the Broadway production of Pal Joey, the 1940 Rodgers and Hart musical that was made out of stories of New York lowlife by the eminent New Yorker writer John O'Hara.  When Pal Joey itself was made into a film in 1957, it would star Kelly's friend/film protege Frank Sinatra who at that point in his career was near the apogee of his second phase of stardom. 
When he appeared in On the Town, however, in the late 1940s, Sinatra was at a legendary lowpoint his professional and personal life.  This nadir was all the more striking in that it followed very close on the heels of Sinatra's dizzyingly rapid rise to pop stardom.
This is a fascinating story in and of itself.  But it's also a narrative that has broad resonance for the concerns of our course.  What happened in Sinatra's career illustrates broader changes in American life, many of which centered on NYC in the later 40s.  
Later in the semester, for instance, we'll look briefly at the way that bebop (or "modern jazz") emerged out of the world of swing music–which itself went quickly from being a mass cultural sensation, during the late 30s and the War years, to a rapidly declining segment of the music industry.  In fact, Sinatra had come to fame during the early forties as a singer for two of the major swing bands of the era–first Harry James's and then Tommy Dorsey's.  (He was also an astute student of, among others, Billie Holiday.)  At a time when swing was a youth sensation (and showed many of the characteristics–interracial affiliation, intense fandom, new fads in dance and dress, the exuberant expression of sexual energy and suggestons of sexual freedom–that would later be associate with rock and roll), Sinatra became a superstar among teen audiences, especially young women, known then as "bobby-soxers.  The rapture and public exhilartion he inspired is comparable to what would later be seen with the Beatles.   Sinatra's career, in short, demonstrated some of the ways that the recent growth of electronic mass media–movies and radio, in particular–were changing American life.  His music was a new style of entertainment that combined the influence African-American musicianship and the songwriting traditions of New York industry professionals–many of whom were children of the Jewish tenement neighborhoods.  And it appealed to and helped create a new audience of young consumers interested in the exuberatnt culture of the city.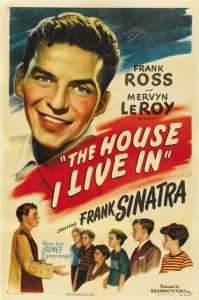 As with a number of his entertainment contemporaries (e.g., Duke Ellington), moreover, Sinatra linked this mass popular appeal to a support of social democratic politics.  During the War years, Sinatra was closely associated with the poplist left and made powerful statements in support of democracy and racial tolerance–most famouslyin the short film he House  I Live In (1945), a movie endorsing cultural tolerance and linking it to American war aims, many of whose leftist creators would ultimately end up on the blacklist during the Red Scares of the later 40s and '50s.  
[youtube]http://www.youtube.com/watch?v=_0NraoSYr38[/youtube]
By the late 40s, however, populist leftist and swing music were both in decline, and Sinatra's career was in bad shape.    Sinatra himself had voice troubles, and he made a number of disastrous public relations mistakes–including hanging out with the mob and beating up a gossip columnist.  After Making On the Town, he was dropped by MGM, reportedly for making a crude joke about studio boss Louis B. Mayer.  He had also just begun a tumultous affair–soon to be still more tumultous marriage–with Ava Gardner.   (Interestingly, Gardner had been previously married to Artie Sahw a Jewish kid from New Haven who became a musician in New York and then a superstar of the swing era.)
Eventually, Sinatra would make a return to stardom–beginining with his Academy Award in 1953 for From Here to Eternity and extending through a celebrated series of albums he made in the later fifties with Nelson Riddle which drop Sinatra's previous swing aesthetic for a combination of lush orchestration and a highly personal, intimate, often rueful voice.  As in this classic 1958 recording, from Only the Lonely, of "One for My Baby."
[youtube]http://www.youtube.com/watch?v=HpkkAsSd_Ns[/youtube]
So when you see him in On the Town, you're watching Sinatra near to a low point in his career.  It's an interesting moment in his biography, but also a point that speaks to broader changes in the entertainment industry and American culture–swing giving way to bebop, social democracy coming under Cold War suspicion, the aesthetics mass populism being replaced by the aesthetics of often anxious individualism.  Sinatra was a good barometer of all these changes.
You can read legendary photographer William Gottlieb's account of the recording session where he took the photo above, and his description of Sinatra's famously difficult personality <a href="http://www.jazzphotos.com/sinatra.htm">here.</a>