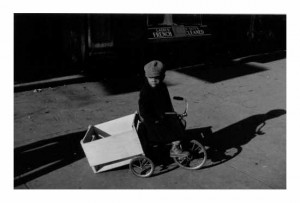 Aaron Siskind, "Harlem" (1940)
As the career of Ann Petry indicates, Harlem in the 1940s was a center of civil rights activism. As her novel suggests, it was also a breeding ground for musical innovation. During the same years, the ghetto life that Petry depicted attracted a number of great photographers.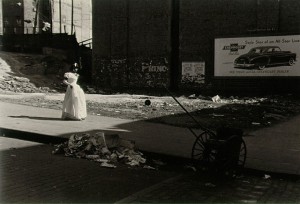 Roy DeCarava, "Graduation" (1949)
Four major photographers in particular made important images of Harlem in the '40s. Roy DeCarava, who grew up in Harlem, began a long and illustrious career in the 1940s, taking pictures that became widely known only when they were published in 1952 as part of a documentary book, titled Sweet Flypaper of Life, on which DeCarava collaborated with Langston Hughes. His earliest work resembles the documentary photography prominent in the 1930s, but according to DeCarava himself, it already reflected a highly personal visual aesthetic that reflected his training as a painter and that would blossom in the 50s, when he became known for photos of jazz musicians.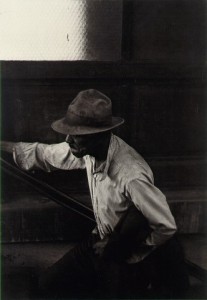 DeCarava, "Man Coming Up the Stairs" (1952)
Gordon Parks began his career making documentary photographs for the Federal Government during the Depression, as part of the legendary FSA (Farm Security Administration) group of photographs (among them Walker Evans, Dorothea Lange, and Arthur Rothstein) who worked in effect to propagandize on behalf of the New Deal.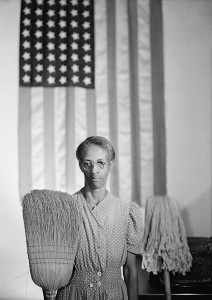 Parks, "American Gothic, Washington, D.C.," his most famous photograph, made during the Depression
During the 1940s, Parks moved to Harlem, where he very cannily wangled himself a spot on Life magazine, the premier photojournalism venue of the day, and collaborated with Ralph Ellison on a never fully published documentary chronicle of Harlem. Later, he'd be best known for his work as a film director, and the role that his movies Sweet Sweetback's Badassss Song and Cotton Comes to Harlem had in setting off the "blaxploitation" wave of the late '1960s and '70s.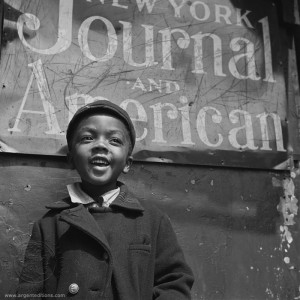 Parks, "Harlem Newsboy" (1943)
Helen Levitt, who grew up in Bensonhurst, Brooklyn, was inspired by Henri Cartier-Bresson and Walker Evans to use "street photography" as a means of capturing fleeting moments of intense beauty in ordinary life. Struck by the artistic inventiveness of children, she became known for her photographs of city kids, many of whom lived in Harlem, East Harlem, or the Lower East Side.

Levitt, "Street Drawing" (1940)
Aaron Siskind became best known in the 50s and '60s as a photographer whose images resembled the non-representational designs of abstract painting. But, interestingly, he began his working life as a member of the leftwing New York Photo League and took many photographers that would later be collected in a book titled Harlem Document (You can find a a full collection of the images from the book here.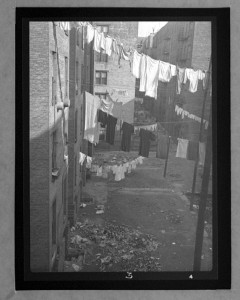 Siskind, "Backyard Vista" (1937-40)
And, of course, the peripatetic Andreas Feininger was on the scene.