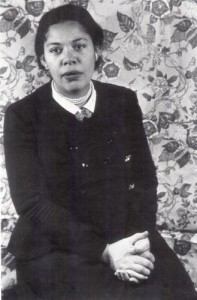 As you know from reading Cheryl Greenberg's "Mean Streets," Harlem in the mid-forties (the setting of Petry's The Street) was a ghetto neighborhood that had been ravaged by the Depression and by decades of racial injustice and segregation. The War also made it the destination of many new migrants from the South and the Caribbean. The consequences of the resulting poverty and overcrowding, as of longstanding exploitation, were evident in the explosive Harlem Riot of 1943.
But Harlem was also in many respects a vibrant community. It had a very active political world, in which diverse groups of activists—black nationalists, Communists, socialists, labor and civil rights leaders, liberal social reformers—sought energetically to combat the evils of racism and poverty. It was home to a number of newspapers and magazines directed to African-American readers, and, of course, it supported a bustling entertainment industry built around music and dance.
Ann Petry had a distinctive relation to this world, which is helpful to consider in reading The Street. Petry (short bio here) was not a native of Harlem. She grew up not far from Wesleyan, in Old Saybrook, CT, attended the Pharmacy school at UCONN, and moved to NYC after marriage, when she was nearly 30. She quickly became part of Harlem's thriving literary and political scene.
In particular, during the early forties, she was a writer and editor at The People's Voice the left-leaning, reformist newspaper started by Adam Clayton Powell, Jr.–the prominent, later flamboyant and scandalous, Harlem leader who became New York's first African-American congressman. (He held the newly created seat now occupied by Charlie Rangel.)
When some of her short stories became critical successes, Petry was championed by the white liberal novelist and editor Bucklin Moon and received a Houghton Mifflin fellowship to complete The Street. The novel became a great success and made Petry something of a celebrity. Not enjoying the level of attention she received, Petry returned to coastal Connecticut in the 1950s, and set her subsequent fiction in that world.
Petry's experience as a journalist and social reformer was important, among other reasons for the way it gave her the material she turned into her first novel. But it may also have influenced the way she conceived the neighborhood and its people. As you think about the novel, it may be useful to consider the possibly strengths and weaknesses of that perspective.