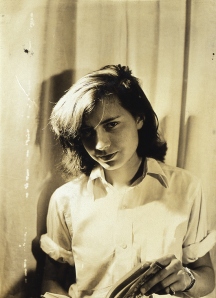 The U.S. has produced many a weird, misanthropic writer. But Patricia Highsmith, who happens to have shared a birthday with Edgar Allan Poe, belongs high on anyone's list of the strange and disturbing. As Terry Castle writes in the superb essay pasted in below, Highsmith once commented that creepy ideas came to her as "frequently as a rat has orgasms."
In other words, I suppose, often.
Strangers on a Train, Highsmith's first novel and, for a long time, her biggest success is far from the most bleak or uncanny of the works she created. Her long oeuvre is full of stories of stalking, obsession, psychological cruelty and manipulation. But it also includes lots of works of the outright brutal and macabre–The Animal Lover's Book of Beastly Murder, Little Tales of Misogyny, Slowly, Slowly in the Wind. Ugly, twisted, weird, powerful stuff. All of it composed in precise and elegant prose.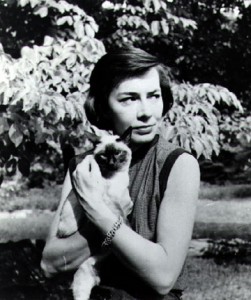 Strangers looks restrained by comparison to many of these works, but it bears the hallmarks of all Highsmith's work. I won't attempt to describe those hallmarks here because I can't hope to compete with "The Ick Factor," Terry Castle's remarkable essay on Highsmith's life and work. The piece, was originally published by The New Republic as a book review back in 2003. You can find it at TNR's site here. But, criminally, the magazine has left Castle's superb essay as an unformatted block of prose. So, I've taken the liberty of pasting the piece in below and have introduced paragraph breaks to make it more readable. Keep in mind that these are my editorial intrusions and are likely not the paragraph divisions Castle originally created. I think the essay is more than worth reading nevertheless. It's an elegant and brilliantly illuminating piece. Be forewarned, though, that it includes some spoilers about the plot of Strangers. You may want to finish the novel before reading it.
Also worth reading is Castle's similarly excellent essay on Highsmith's "fabulously swoony lesbian love story" The Price of Salt.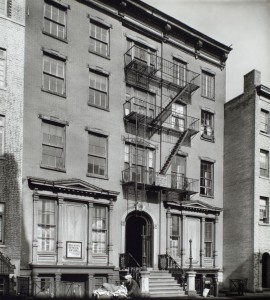 One issue that Castle doesn't much discuss is how deeply rooted Highsmith's work was in her experience of growing up and living as a student and aspiring young writer in New York. Highsmith was born in Texas. (Ft. Worth, where she lived, appears in Strangers as Metcalf.) But she moved with her mother and stepfather to New York when she was in elementary school and, after a few years living in Astoria, moved to Greenwich Village–where she lived through high school and most of her time at Barnard College.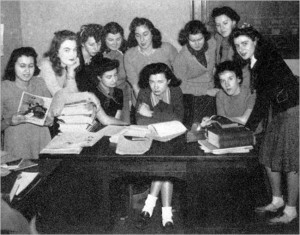 Later she lived for a time on the east side in the '50s, near to where Meg Sargent ends up, and then in various places throughout the Village, before she ultimately left the U.S. to live permanently in Europe.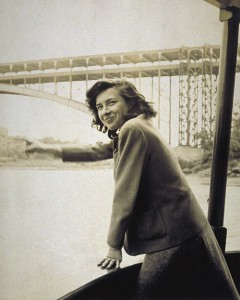 Highsmith's life in New York led her to meet, or at least to come near the orbit, of many of the artists and intellectuals we look at in this course. Indeed, Highsmith crossed paths with almost everyone who was anyone in New York artistic and intellectual circles in the late 1930s and 1940s. She lived for a time in the thirties at 1 Bank Street, where Lionel and Diana Trilling, just a few years before, spent the first year of their marriage. (Willa Cather had lived at the same address two decades earlier.) For a time, she shared a building with Sidney Hook, the philosopher who was a leading voice in New York anti-Stalinist circles. She was an excited subscriber to Partisan Review and was eventually introduced by her friend Arthur Koestler–the emigré writer best known for the anti-Communist novel Darkness at Noon–to the magazine's editors Philip Rahv and Fred Dupee.
During high school, she and her friend Judy Tuvim (later to become the Broadway and movie star Judy Holliday) liked to eat at the renowned Village Tea room The Jumble Shop, where around the same time the future Abstract Expressionist painters were hammering out their ideas and hanging their paintings. Later, through Holliday, she met Adolph Comden and Betty Green, collaborators on On The Town with Leonard Bernstein (who, in another coincidence, would later have an affair with Farley Granger, the actor who starred in Hitchcock's Rope and who played Guy in Hitchcock's adaptation of Stranger). In 1947, she was in the audience for Streetcar Named Desire, which she rhapsodically called "the play of my life." After watching the play, she went home and wrote a story about a man whose pet snails copulate so prolifically that their offspring eventually smother their owner.
At first glance, in other words, Highsmith looks to have been plugged into some major artistic and intellectual circles of 1940s New York. As a very young woman, she made her way into a network of powerful lesbian journalists, designers, intellectuals, and cultural entrepreneurs. Among then were Rosalind Constable, who was the presiding voice on cultural affairs for the Time/Life empire and Betty Parsons, Constable's lover, whose gallery played a major role in establishing the Abstract Expressionists. Through the social contacts she made via her close relationship with Constable in particular, Highsmith went on to meet, among others, Peggy Guggenheim, Simone de Beauvoir, Jane Bowles, Paul Bowles, Shirley Jackson, Stanley Edgar Hyman, Truman Capote (who became, for a short time a close friend, and remained a lifelong admirer), Chester Himes, and Flannery O'Connor (to whom she took a strong dislike). At one point, Highsmith very nearly left New York to travel to North Africa with Jane Bowles in search of Jane's husband Paul.
But all these names may create a misleading impression. As a young woman, Highsmith seems to have been socially, as well as sexually avaricious. She was a relentless seducer and bedded innumerable young women, and she angled after invitations to parties where the wealthy and luminous would be in attendence. Her sojourns took her through the outskirts of Café Society, the edges of professional journalism, and the outer margins of Greenwich Village bohemian circles. Her social itinerary can sound like something out of a Dawn Powell novel.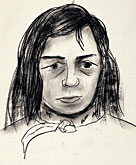 But, by her own report and the memory of her contemporaries, Highsmith was never really a part of any of these worlds. She scorned the Village and did not have the status to make a mark in the wealthy and prestigious milieux she desired, and she was always on the margins of every gathering. Though she sought aggressively after employment in the big slick magazines of the day (Harper's Bazaer, Vogue, The New Yorker), she was repeatedly turned down. Through most of the 1940s, she supported herself by writing for the new comic-book industry–then a publishing dynamo–going home each night to work on her serious fiction, which she had difficulty placing in venues other than in pulps like Ellery Queen's Mystery Magazine. The editor Robert Gottlieb later recalled, "She seemed to have no presence in New York."
As her biographer Joan Schenker explains, New York, and the Village in particular, played a huge role in Highsmith's imagination. (In this New York Times article Schenker takes a reporter on an illuminating walking tour of Highsmith's Greenwich Village.) But the city she knew best was the world of the desirous outsider and the misanthropic loner. How that may affect Strangers is worth considering.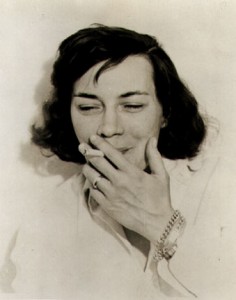 "The Ick Factor"
by Terry Castle
Nothing That Meets the Eye: The Uncollected Stories of Patricia Highsmith By Patricia Highsmith (W.W. Norton, 456 pp., $15.95). Beautiful Shadow: A Life of Patricia Highsmith By Andrew Wilson (Bloomsbury, 534 pp., $32.50). Highsmith: A Romance of the 1950s By Marijane Meaker (Cleis Press, 207 pp., $14.95)
You Patricia Highsmith fans, you know who you are. Your ugly white trash mother tried to abort you in 1921 by drinking turpentine, so you are not very fond of her. You first met your father in Texas when you were twelve and he immediately put his hands down your pants. You keep snails–hundreds of them– in your house in Switzerland. They make good pets and will survive us all. Cats are nice, too. When friends come over, you like to swing the little boy kitty around in a towel so he gets groggy and sick and staggers when you put him down again. You favor white Oxford-cloth shirts and jeans and black loafers. You wear a pinky ring. When you go to the ladies' room in a restaurant, the old biddies in there all squawk and say you're in the wrong bathroom. You have slept with a million women, and like to have a few beers and old-fashioneds before it's even breakfast time. If you had been a man you would probably have been called Dicky or Nicky or Freddie or Cliffie–some stupid faggot name like that. Or maybe Tom. Tom Ripley!
You've got death on the brain. You are interested in growths and tumors and medical waste. Serial killers bore you, though: too predictable, too sentimental. You prefer it when somebody ordinary goes right off the deep end. Starts bludgeoning their nearest and dearest. Bludgeoning is your favorite kind of murder, in fact: hard to get more direct than that. You know what it takes to brain a child: a single sharp blow if the kid is under eight, maybe two if it's older. You've never had any kids yourself, obviously, and that is probably a good thing. Your own goddaughter describes you as "a weird, unkind, and dissolute person." One of your American publishers says you are the "most odious woman he's ever met." Even your oldest friend thinks you are "hormonally strange." How's that for the milk of human kindness!
It's true: you are a great hater and you do not mind saying so. You hate women, Jews, blacks, and Catholics. I mean really hate. Women shouldn't be allowed in libraries when they are menstruating, you say. Black men have to have sex several times a day or they get sick. The "yids" are to blame for the decline in the quality of airline food: no good sandwiches to be had anymore in first class. If only American bombers would hit the Vatican. People who claim to be happy are "retarded." People in nursing homes? Unplug 'em, you say. There is no such thing as love in the world. You're going to croak soon too from cancer and smoking and nosebleeds and you don't want to be kept alive on a tube, like a big senile baby in your adult diapers. Too harsh a portrait, you say? Not a nice way to start a review? The hell with you.
The canonization of Patricia Highsmith–doyenne of the psychological suspense novel, depressive homosexual, mean drunk, and one of the greatest, darkest American storytellers since Poe–has officially begun. W.W. Norton is in the process of re-issuing all of Highsmith's major fiction–from the classic early thrillers Strangers on a Train (1950), The Blunderer (1954), and The Talented Mr. Ripley (1955) to such morbid later masterpieces as A Dog's Ransom (1972), Little Tales of Misogyny (1977), The Animal Lover's Book of Beastly Murder (1975), The Boy Who Followed Ripley (1980), People Who Knock on the Door (1983), and Tales of Natural and Unnatural Catastrophes (1989). Her longsuppressed lesbian novel The Price of Salt, originally published under the pseudonym Claire Morgan in 1952, has been back in print for a while; and now the first biography is here, too, along with a tell-all memoir by one of the many women with whom Highsmith slept in the 1950s and 1960s.
The problem is, to really cozy up to Highsmith you almost need some kind of decontamination suit, like those big vinyl overalls worn by people who bury toxic sludge. The life of a jaded, butch, Scotch-soaked lady novelist? Not a pretty sight. Gifted writers and artists are seldom the cheeriest of souls–let alone people you'd really want to live with. Still, to judge by the joyless, even harrowing portrait of her in Beautiful Shadow, Andrew Wilson's new biography, Highsmith must have been–to put it mildly–as weird as snakes. This was a woman who once smuggled her cherished pet snails through French customs by hiding six or eight of them under each bosom. Her idea of a stylish coffee- table book was A Color Atlas of Forensic Pathology ("a veritable gore-fest of .. . color photographs of 'car accidents, murders and rape cases: the really shocking images that don't reach the public.'").
She dreamed in turn of creating a fictional character "obsessed with the detritus of modern living– waste material, including abortions, the contents of toilets, bedpans, diapers, hysterectomies." ("I need a character obsessed with all this," she said. "I've got one myself.") Creepy ideas came to her, she once said, as "frequently as rats had orgasms." In one of the less agreeable stories in Tales of Natural and Unnatural Catastrophes, called "The Mysterious Cemetery," Highsmith describes the strange fungus-like growths emerging from the soil above the graves of cancer victims who have been buried in a provincial Austrian hospital cemetery after receiving experimental radiation treatments: bulbous figurines of bluish-green and off-white color, which eerily rose above the surface of the soil and grew, some, to a height of two meters or so. Others of these mushroom-like growths attained only fifty centimeters, some were even smaller, and all were bizarre, like nothing else in nature, even coral. Spotting the unusual growths one night, Highsmith's protagonist, a young medical student named Oktavian, realizes at once that they have something to do with the experiments of his hospital supervisors:
He supposed, he was almost sure, that the growths out there in the darkness were highly contaminous. They would combine the carcinogens injected by the doctors as well as the original berserk cells that had caused the cancer. How large would they become? And what was nourishing them? Terrifying questions! Oktavian, like most medical students, sent chums an odd part of the human anatomy once in a while. It was almost a token of affection when a fellow received such a present in the post from a girl student, but something like this? No.
After the elderly graveyard caretaker dies of "metastatic tumors," hospital administrators disinfect the soil and try to incinerate the fungi, but they keep growing back–each one a "pale curve," rounded at the top "with what looked like a convolution or crease half way down it that disappeared in the earth." (Oktavian's girlfriend finds one that looks like a fetus, "at that stage when fish and mammal show their rudimentary gills under the head-to-be.") Government officials cordon off the cemetery with a heavy wire fence and danger- of-death signs, but the place soon becomes a perverse site of pilgrimage–a "tourist attraction" for thrill-seekers, journalists, and avant-garde artists (who make abstract sculptures inspired by the growths). "Some philosophers and poets compared the grotesque shapes to a man-made wreckage of his own soul, to an insane tinkering with nature, such as that which had resulted in the accursed atomic bomb. Other philosophers countered: 'Is cancer not natural to man?'" At story's end, Oktavian and his girlfriend can't decide one way or another, and instead "[think] about marrying."
One might take such a fantasy–as many reviewers did when the story was first published in 1987–as a sign of Highsmith's dismay, late in life, at the prospect of planetary ecological disaster. But one senses here, and not just in this story, a rather more intimate (and perhaps less consoling) negativity at work. For Highsmith, life itself was cancerous–malevolent, disgusting, and (without the requisite bottle of Dewar's at hand) intolerably alienating. Human beings were foul and stupid, their bodies nothing more than tumors waiting to happen. On they went, fucking and spreading and rotting, like out-of-control cells in a necrotizing sarcoma. Highsmith's sense of the vileness of things–of things gone wrong at a primal, even physiochemical level–was as deep and prurient as Swift's. She was "one of the great misanthropists," said a friend after her death. "I could imagine her committing unspeakable crimes if she had no outlet, the outlet of her writing."
The feelings of disgust and dread–or so her biographer suggests–seem to have arisen early. Highsmith was an only child, born in Fort Worth, in frankly unpromising circumstances. Her mother, Mary Coates, was a beautiful woman–a "double," in Highsmith's view, for Greta Garbo–but vain, cold, critical, and in her later years often violently unstable. When Mary became pregnant, Highsmith's father, Jay Plangman, a seedy and somewhat feckless commercial artist of German ancestry, urged her to abort the unborn child by drinking turpentine. The ploy was unsuccessful and Plangman abandoned wife and baby soon after Patricia was born. (Highsmith's mother was later wont to marvel–in fits of senile drollery–about her daughter's supposed fondness for the smell of turpentine.)
Highsmith did not meet her biological father until she was in her early teens; and soon after she did, she claimed, he got out his pornography collection and promptly tried to seduce her. It is hard not to see in him, at however odd a remove, something of her celebrated fictional creation–the sadistic, impervious, sexually inscrutable con man Tom Ripley. After her mother got married again–to a dim-witted fellow named Stanley Highsmith–"Patsy," who loathed him, was given her new stepfather's surname. The family finances were precarious; Mary and Stanley fought constantly; Highsmith was often parked with a grandmother. Perhaps unsurprisingly, she grew up, as she later recalled, "an alert, anxious-faced child over whom hangs already the grey-black spirit of doom, of foreordained unhappiness, the knowledge of which made this child weep often." She was plagued by night frights and illnesses and odd hallucinations (including one of a phantom rodent that darted constantly into her field of vision for several years) and consoled herself with gruesome picture books about World War I. One of her earliest childhood memories was of watching two "sex-mad" flies copulating in the air above the family dinner table. She was convinced that they did so mainly to embarrass her grandmother, who had invited a local preacher for supper.
In adolescence Highsmith retreated ever deeper into her morbid private world. She followed the Lindbergh baby case with furtive interest, fantasized about murdering her stepfather, and read obsessively in Dr. Karl Menninger's The Human Mind Revisited (1930), a lurid compendium of psychological case histories dealing with kleptomania, pyromania, infanticide, paranoia, and the erotic perversions. Menninger's gallery of deviant "types," writes Wilson, "appealed to her already instinctive belief that behind an individual's respectable facade lay a mass of contradictions and perverse desires; a psychological dynamic that was ripe for creative exploration." "I can't think of anything more apt to set the imagination stirring, drifting, creating," she said later, "than the idea– the fact–that anyone you walk past on the pavement anywhere may be a sadist, a compulsive thief, or even a murderer."
The atmosphere of sickly apprehension so palpable in Highsmith's suspense fiction–her ability to induce in the reader states of extraordinary mental disquiet using the most banal-seeming material– is surely due to this: a precociously Gothic sense of human psychology. The capacity for evil lay in everyone, she felt: all it took was a small derangement of ordinary circumstances–a tiny, inimical tweak in the fabric of reality–for the monster to emerge. Highsmith's obsession with her mother–a bond at once sterile, consuming, and disturbingly eroticized–was instrumental in shaping this bleak view. "I am married to my mother," she wrote in an early poem; "I shall never wed another."
Mary Highsmith was somehow the worst of both worlds: demanding, seductive, but catastrophically unloving. For seven decades (she lived into her nineties) she ruled over her daughter's psychic life like an unasked-for bride–a malign, indestructible Miss Havisham of the soul. "All my life work," Highsmith noted in a diary in the early 1940s, "will be an undedicated monument to a woman." Though Highsmith exiled herself to Europe after 1963–she was always more esteemed there as a writer than in the United States–she never managed to escape the grim and obdurate queen enthroned in her own heart. Which is not to say that she was a uxorious, or even a faithful, consort. One of the most depressing aspects of Wilson's biography is the ponderous accounting of the adult Highsmith's numerous botched love affairs–each one more dysphoric and doom-laden than the last.
Highsmith's sexual promiscuity began early. Her mother and stepfather moved to New York in the 1930s, and Highsmith had her first lesbian affairs while still a student at Julia Richman High School in Manhattan. (An early flame was Judy Tuvim, later to win an Oscar for Born Yesterday under the name Judy Holliday.) At Barnard in the early 1940s, in full bohemian revolt against her mother's jealous censoriousness, Highsmith frequented the women's bars of Greenwich Village and left what one witness described as "a trail of unmade beds" behind her. Around this time she also became infatuated with Rosalind Constable, a literary agent and the lover of the New York gallery owner Betty Parsons.
Constable, who admired the stories Highsmith had begun publishing in the Barnard Quarterly, subsequently sponsored Highsmith's application to Yaddo, where she would complete her first major crime thriller, Strangers on a Train, in 1948. Like other prominent lesbian writers of her time (Bowles, Yourcenar, Bishop, Sarton, Sackville-West), Highsmith seems to have been both a boyish, flirty, compulsive seductress–a sort of sapphic Dennis the Menace–and pitifully incompetent at finding lasting joy or ease with any of her partners. Granted, she was never exclusively gay in the technical sense: while in her twenties she had several experimental flings with men, including one with the homosexual photographer Rolf Tietgens, who took the extraordinary nude photo of her from 1942 that is reproduced in Wilson's book. To those who know Highsmith only from her cheerless dust jackets of the 1980s and 1990s–in which she typically manages to look both petrified and pickled, like an alcoholic basilisk– Tietgens's portrait shows just how dizzyingly attractive she was as a young woman. Lean, louche, androgynous, with jet black hair, a foppish forelock, and full, pouting lips: a real Texas Cherubino. (Tietgens confessed at the time that he was drawn to her because "you are a boy, you know.")
Her somewhat weird erotic allure, intriguing to both sexes, would never be diminished, even as her features underwent the Dorian Gray-style dilapidation of later years. Still, Highsmith thought of herself as mainly queer, and after a brief attempt at "curing" her homosexuality through psychoanalysis in the late 1940s she returned with libertine gusto to her female amours and infatuations. Wilson itemizes each one in scholarly fashion: a half-century's worth of Annes, Virginias, Kathleens, Kathryns, Elizabeths, Madeleines, Marions, Marys, Lynns, and Ellens; but it's fairly difficult to keep them all straight. (Or even gay: Highsmith was often painfully attracted to tall, blonde, unavailable straight women.) Highsmith tried living with a few of them, with predictably disastrous results. In her fascinating account of her cocktail-fueled affair with Highsmith in the late 1950s, Marijane Meaker describes the writer repeatedly menacing her with a switchblade when they rented a house together in Bucks County in 1959-1960. When Meaker met her former lover again in 1988–twenty- seven years after they had last seen each other–Highsmith railed against Jews and blacks and mortified Meaker and her friends with her gaucheries and drunken outbursts. "I have a definite psychosis in being with people," the novelist once observed.
No one seems ever to have succeeded in breaking through Highsmith's rigid self-armoring–except, possibly, toward the end of her life. Her last significant love affair, begun when she was fiftyseven, was with Tabea Blumenschein, a twentysomething German artist and film-maker, whom Highsmith met at the Berlin Film Festival in the mid-1970s. (Though not always happy with the film adaptations of her fiction–she disliked Hitchcock's Strangers on a Train [1951] and loathed most of the film and television versions of the Ripley novels–Highsmith took more than a passing interest in cinema.) Blumenschein had spiky punk-rocker hair and a penchant for the less salubrious forms of Berlin night life, and she enjoyed dressing up in gay male leather drag. She took Highsmith, a Mozart lover, to grungy lesbian discos and gave her the Rolling Stones' Sticky Fingers and Lou Reed's Transformer. Highsmith became farcically besotted, to the point of preserving as a fetish a dirty bath mat stolen from a hotel in which they had made love. When Blumenschein abruptly dumped her–she wrote Highsmith a chilling note saying it was a shame, but her relationships never lasted longer than four weeks–the aging novelist was devastated. Highsmith worked some of the details of the affair into The Boy Who Followed Ripley, the book she was writing at the time, but she was unable to exorcise the memory of Blumenschein, even years later. The whole pathetic business was like a lesbian version of The Blue Angel, with Blumenschein in the amoral showgirl part and Highsmith as the clownish, infatuated professor who destroys himself over her.
There is no denying that Highsmith's private life was a fiasco–squalid, chaotic, often extraordinarily painful. As Wilson quietly demonstrates–and he is non-judgmental to a fault–she had excruciating difficulties engaging with other people. Virtually everyone who met her remembers her lifelong diffidence: her pathological fear of shaking hands, the way she would reflexively take several steps backward when introduced to someone, the hostile and ruinous drinking. Some readers will disparage Wilson's revelations as sordid and unwelcome, like photographs of a car wreck, but to do so is also to miss the point. Quite as much as T.E. Lawrence, Highsmith was a Prince of our Disorder (though she was far more mannish than he). Anyone who has grown up troubled or shy or gay will instantly identify with certain parts of her story–the towering rage above all. However cruelly and ignobly she vented it, her animus toward the world was a psychic necessity, a survival mechanism. In contemplating Highsmith's life and work, Terence's attitude is the right one: Humani nil a me alienum puto. But the fiasco of the life is also the key to the work.
Highsmith's personality disorder is everywhere on display in her novels–most strikingly in her plots, which like those of her masters Dostoevsky and Camus (or of J.M. Coetzee) turn upon the unbridgeable alienation of one person from another. Susannah Clapp once described Highsmith as "a balladeer of stalking." "The fixation of one person on another," Clapp observed, "oscillating between attraction and antagonism, figures in almost every Highsmith tale." This seems sadly apt. The stalker wants to get as close as possible to someone: close enough to see, hear, touch, taste, breathe (or murder) the other person, but without any real intimacy being established. Stalking is a parody of intimacy: a way of being in proximity without the pain–or the ecstasy–of actual attachment. (Not that the stalker sees it that way: typically, he or she blames the victim for somehow resisting intimacy, thus authorizing the stalker's endlessly renewed predations.) Like Satan locked in the ice at the end of Dante's Inferno, Highsmith seems to have felt herself eternally condemned to such a parody of closeness. Even in the act of sex, she wrote, she felt somehow set apart–forced to watch herself and her partner "as though we were on stage."
In the plethora of stalker-victim pairings in Highsmith's fiction, it is hard not to see a compulsive reiteration of the problem. Go-Away-a-Little- Closer is the name of the dreaded Highsmith game: cozy up to someone in one of her novels and you might as well be dead. Wilde had it right–and Highsmith respected him profoundly–about every man killing the thing that he loves. Except in Highsmith's blighted world you only think that you love the "thing" (or person) in question. The cold-hearted bugger or bitch–or so you realize after a while–has been duping you from the start. They deserve to die. The final nasty twist, of course, is that even being a top-notch stalker does not always afford protection: someone else may be stalking you. Stalkers and victims exchange roles in Highsmith's novels with dizzying frequency. No one is exempt from the collective autism.
There are seldom children in Highsmith's fictional universe: so much obvious naivete would be heartbreaking. But her adults are often childish in their vulnerability–dim, chaotic, morally flaccid beings, unerringly drawn to those who wish them ill. Thus, in Strangers on a Train, Guy, an architect caught in a messy divorce, meets another man on a train, the sinister Bruno, who makes a deal with him: Bruno will murder Guy's troublesome wife if Guy will murder Bruno's wealthy father. They will both elude punishment, says Bruno, because even if they are caught, the police will not be able to discover a motive for either crime. The reader is instantly and sickeningly drawn in–first as Bruno stalks Guy's hapless wife and kills her ("a sense of purpose, strange and sweet to him, carried him along in an irresistible current"), then as he begins to stalk Guy himself, who is now stricken with guilt and wants to renege on the deal. Terrorized by Bruno's blackmail, Guy, in turn, commits the second agreed-upon murder–only to disintegrate, Raskolnikov-like, in suicidal panic as the whole deranging scam starts to close in on him. The fact that he is obscurely attracted to Bruno, whose bland blond looks, smooth "waxen" skin, and blue- tinged eye sockets give him a queasy, catamitic, Warholish glamour, adds a final element of unwholesomeness to what is already an astonishingly repellent tale.
In the superb Cry of the Owl (1962), Robert Forester, an erstwhile peeping Tom, discovers with a shock that the young woman he is calmly observing one night from behind a clump of bushes outside her house is actually staring back at him. (This has to be one of the eeriest moments in all of Highsmith's eerie fiction.) She invites him in, engages him in ditsy conversation, and, to his consternation, becomes emotionally obsessed with him. In his own dreamy maladapted way, Forester tries to reciprocate, but when he confesses a few weeks later that it just isn't working, she commits suicide. For the rest of the novel he is pursued–nightmarishly–by her goon boyfriend, who blames him for her death and wants to kill him. By the end of it all, the unlucky voyeur is a schizoid wreck, and Highsmith has made us identify with him entirely.
In The Talented Mr. Ripley, Highsmith's perverse re-working of James's The Ambassadors, the stalker is of course Tom Ripley (yet another peeping Tom), who is dispatched to Europe to bring home the scapegrace son of a wealthy American businessman. When Tom finds the errant Dickie loafing around in a fishing village on the Riviera with his girlfriend, he insinuates himself into their menage and develops a weird crush on his prey, even as Dickie, a born cocktease, vamps girlishly in return. Erotic feeling, dangerously mixed with resentment, would seem to prompt that frenzied scene of lust and loathing–one of Highsmith's bloodiest–in which Tom ends up battering Dickie to death with an oar while they are out at sea one day in a skiff. (Some Highsmith aficionados thought Matt Damon, the Ripley in Anthony Minghella's film version of the book, too young and puerile for the part; but I found his horn-rimmed glasses, prudish affect, and hairless, pale, mole-flecked torso oddly right.) At the end of the novel, having deceived or killed anyone who might connect him with the crime, Ripley brazenly assumes Dickie's identity, and also his fortune.
Yet even such psychopathic triumph is conditional. In later Ripley novels– Highsmith would produce three sequels–Ripley is himself menaced by various nutcases. Highsmith always claimed to be "in love" with Ripley and would even sometimes autograph books and photographs using his name. But she had no compunction about showing him as the stalkee, as in the grisly, gay-themed The Boy Who Followed Ripley. Given the sheer malignancy of existence, not even a ghoul or a robot is invulnerable. One can't help but feel that had Highsmith lived longer she would have killed Ripley off at some point, and rather more sadistically than Conan Doyle dispatched Holmes. Even, finally, in the lesbian romance The Price of Salt–the one Highsmith novel, paradoxically, that might be said to have a happy ending–the same alienated sensibility is at work. I confess to having doted on this book in my twenties (I must have read it seven or eight times); and even now the euphoric central love affair–between Therese, a shy young theater designer working as a temporary salesgirl in a Manhattan department store, and Carol, the sardonic (and gorgeous) older woman who comes into the toy department one day to buy a doll–can set sluggardly sapphic pulses aracing. (In the movie version of the novel that runs in my head, the soigne Carol is played by Charlotte Rampling.) The book was a gay best-seller when Highsmith published it under the pseudonym Claire Morgan in 1952; and thirty years later–after much paranoid grousing that her reputation would be hurt if she acknowledged it–she allowed a feminist press to re-issue it under her own name.
For five decades the book was an underground lesbian classic–and not only because the women lovers survive the novel without splitting up, committing suicide, or one of them running off with a man. (Carol instead manages to divorce her brutish husband and retain custody of her daughter, even though he threatens to expose her as a sexual deviant.) Despite Highsmith's adherence to the corny conventions of classic pulp fiction, the book is also surprisingly hot. The scene in which Carol and Therese first make love in a small highway motel in the Midwest–they are driving frantically across country in an attempt to elude a detective the husband has put on their trail–has a dated, delicious, 1950s-style steaminess, redolent of jukeboxes, Betty Page pinups, cumbrous blue Oldsmobiles, and endless long-necked bottles of Ne-Hi soda. No Lesbian Bed Death for these gals. But the backstory is not quite so enchanting. The book is partly autobiographical: while working, like Therese, as a temporary clerk in Bloomingdale's in 1948, Highsmith too fell in love at first sight with an elegant female customer. ("I see her the same instant she sees me, and instantly, I love her," she later recalled.) In the novel Therese finds the woman's name and address on a sales slip and cleverly engineers a second meeting. Highsmith was hardly so straightforward. After learning her prey's married name–Mrs. E.R. Senn–Highsmith took a train out to the suburban New Jersey town where she lived with her husband and children and staked out their house for most of a day, feeling all the while "quite odd–like a murderer in a novel." Highsmith repeated this solitary love-trek on several occasions and fantasized in her diary about "placing her hands on the woman's throat, and squeezing until she was still and cold as a statue." But she never saw Senn again or learned her first name (it was Kathleen). All the unfulfilled fantasies had to be channeled, if somewhat cryptically, into the character of Carol.
Bizarrely–as Wilson has discovered–Kathleen Senn's real-life fate turned out to be bleakly Highsmithian: after a series of nervous breakdowns, she gassed herself in the family garage in 1951, only a few months before the novel she had unwittingly inspired appeared in print. Re-reading The Price of Salt with the Senn story in mind, it is hard not to fixate on the book's darker, even unwholesome, elements. It's not only that the love story itself at times seems unwholesome–though female homosexuality is always a tough sell, in literature as in life. Even now, it is extremely difficult for writers to present lesbian desire in an unabashedly positive light: Proust could not do it, nor could Woolf or Henry James. At some fairly deep psychic level–an archetypal one?–lesbianism still seems, alas, reflexively bound up with the themes of loneliness, sterility, unnaturalness, and genetic abnormality. Highsmith's lovers are far more attractive and appealing than those, say, in Radclyffe Hall's The Well of Loneliness, but that doesn't rule out a subliminal ick factor that may be intrinsic to the subject.
Highsmith seems to have been well aware of the difficulty. She even takes perverse advantage of it. When Carol gives Therese a supposedly comforting glass of hot milk early in their relationship, the imagery is disquieting: "the milk seemed to taste of bone and blood, of warm flesh, or hair, saltless as chalk yet alive as a growing embryo." Elsewhere she hints broadly at the quasi- incestuous nature of the women's liaison. At such moments you don't have to be straight (and hung up) to feel slightly nauseated. Yet most tellingly, perhaps, the stalking motif also re-appears, and in a portentous literary form. I have long had a theory that Nabokov knew The Price of Salt and modeled the climactic cross-country car chase in Lolita on Therese and Carol's frenzied bid for freedom in the earlier novel. Humbert's panic- stricken flight through the Midwest with his adored "Lo," the crazy-sinister detective Quilty in hot pursuit, is one of the great emblematic sequences in modern American literature, combining mania, danger, and paranoia (and tacky highway scenery) with rhapsodic taboo romance. Yet the whole disturbing combination is quintessentially Highsmithian. Highsmith was the first writer to mix roadside Americana, transgressive sex, and the impinging threat of a morals charge–and she went about it as masterfully as anyone.
So where to begin if you don't know her? One could do worse than start with Nothing That Meets the Eye, a volume of uncollected stories written between 1938 and 1982. (The book is a companion volume to The Selected Stories, which appeared two years ago.) The earliest stories date from Highsmith's Barnard years, and one wonders what her poodle-skirted classmates made of them. "The Mightiest Mornings," written when Highsmith was only nineteen, is a startlingly accomplished and profoundly unsavory vignette about a man, newly arrived in a small Vermont town, who is suspected (correctly?) of pedophilia when he befriends a fey little girl named Freya. His life–and his joy in life–are obliterated in a matter of pages. Subsequent tales turn on murderous loathing between sisters ("Where the Door Is Always Open and the Welcome Mat Is Out" and "Quiet Night"), adultery and voyeurism ("The Still Point of the Turning World"), Mexican sex tourism ("In the Plaza"), hysterical paralysis ("The Piano of the Steinachs"), and psychotic postal workers ("Music to Die By"). (The last-named was written in 1963: Highsmith was nothing if not prescient.)
The writing is quite staggeringly good. In "Uncertain Treasure," the main character is a half-mad cripple who finds a lost bag in the subway: "One ear bent under the black-and-white checked cap, but where the other ear should have been was a daub of white flesh like the opening of a balloon which is tied with string." In the grotesque little masterpiece titled "Two Disagreeable Pigeons," Highsmith tells the story, absurdly, from the point of view of a resentful female pigeon, but somehow extracts from it an unforgettable Notes From Underground-like pathos and unease. It is aggravating to think how little official appreciation Highsmith gets, even now, from serious critics and literary scholars. Her self-imposed European exile, her shockingly intransigent personality, and her lifelong preference for the lowly crime genre have undoubtedly had something to do with her unenthusiastic reception in the United States. (Despite the recent re-issues and the Minghella film, many of her most brilliant novels from the 1960s and 1970s remain unavailable in this country.) Yet even while she puts a decorous crowd-pleaser like Eudora Welty–so much more presentable, so much more ladylike–completely in the shade, I doubt that the Library of America will catch up with her anytime soon. She is far too nasty and strange.
"Patricia Highsmith was a tough-minded writer who believed man capable of extraordinary evil," writes the German critic Paul Ingendaay in his superb afterword to Nothing That Meets the Eye, "and she took a dim view of man's capacity for self-knowledge and self-improvement." Andrew Wilson's biography confirms it: life was a blight, as far as Highsmith was concerned–a "beautiful shadow" concealing rot, madness, and decay. Unpatriotic attitudes, to be sure– the expression of a damaged and death-driven soul; but also those of an authentic American master. Oh, and remember to hide the cat when she comes over.