By Natasha Cucullo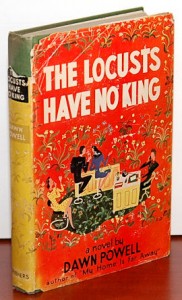 "For all its sweetness and light, Locusts is an intelligent, hard-headed, clear-eyed examination of art, love, ruthlessness, infidelity, commerce, ambition, betrayal and destruction. It is, in short, a quintessential New York novel…The whole novel rings as true now as it must have more than a century ago" –Katie Christensen, Barnes and Noble Review
The Locusts Have No King by Dawn Powell is a satirical work of fiction documenting the lives of the sexually independent and aggressively business-oriented men and women of the New York publishing and performing worlds in the late 1940s. Filled with lust, love, confusion and betrayal, Powell narrates the professional, sexual and social experiences of the three main characters, Frederick Olliver, a writer for small literary journals waiting for his big break, Lyle Gaynor, "the better half of a married team of successful Broadway playwrights" (Morris, The New York Times), and Dodo Brennan, Frederick's new love interest, and the plot unfolds as their affairs are pushed to the brink. Published in 1948, The Locusts Have No King is a production of its time; World War II opened up crucial opportunities for women in the workforce—and for women seeking executive positions, fashion and fashion-related industries (which include theater, publishing, art, and design) provided a space to take on greater responsibilities in management. Powell infuses her characters with the attitudes that women and men possessed in this changing social, political and economic milieu.
The fashion industry of the United States was still riding on the coattails of famous Parisian couture icons throughout the 1930s, it wasn't until the United States' entrance into World War II, when more and more countries began turning inward for manufacturing and production, that American designers, publishers, and fashion executives experienced a "fashion moment" (Turner, 15). Before the war, Parisian Couture houses dominated, with haute couture reigning as the "end all be all" of style. Fashion, from its beginning, aligned itself with the "elite"—the upper class who could afford the gowns and tailored suits that designers crafted specifically for their affluent clients. Haute couture, with its lavish embellishments and restrictive bodices maintained the dominant social hierarchy of the 19th century women were to be as far removed from labor as possible and men were to tend to business. Consequently, it was hard for America to compete with Parisian fashion, its royal history, and the centuries old fashion capital, Paris. With the advent of the Second World War, however, the decline and closing of many of the dominant international couture houses in Europe opened the door for the American fashion industry to gain sovereignty from its European counterparts.
"A bar was raised in women's independence through fashion during WWII" (Mason, 63) and thus, the 1940s was a complete departure from anything before or after its time, beginning a watershed movement for women's employment outside of the domestic sphere. As America became increasingly involved in the world conflict, and shortly after France fell to Germany in World War II, the changing political atmosphere required women to work. This necessity actually began to nurture an American design aesthetic (coined American Sportswear) and an American fashion industry distinct from its European forefathers. World War II not only allowed women the opportunity to get their hands dirty in typically masculine labor departments—working for the war effort in factories—but also offered women a period of unprecedented power to work in upper-management and as professional executives in the fashion industry. Out of 260 female executives in the 1940s, "218 worked in some profession related to the fashion industry" (Clifford, 64). While these jobs may have been deemed part of the "female sphere" and therefore "unworthy" of male direction, the fashion industry—and, in particular, magazine publishing—became a space where women could become business leaders and cultural influencers. Female powerhouses—Carmel Snow (Editor-in-Chief of Harper's Bazaar), Diana Vreeland (Fashion Editor of Harper's Bazaar), and Madge Garland (Fashion Editor of Vogue UK)—may not have openly received credit in the 1940s for helping to transform the way America views women (changing them from passive to active participants), but their authority, unprecedented power in the workforce (as well as the anxiety they provoked) and progressive ideas about women, which were disseminated through their work in their respective magazines (Harper's Bazaar, Vogue, and Vogue UK), did not go unrecognized, and influenced the way women were written about in the 1940s.
While Dawn Powell's characters may be fictional, their stories are very realistic, especially for women in fashion and fashion-related industries. In essence, what Powell portrays in The Locusts Have No King, is the economic, social and sexual freedom that New York City fashion editors and women business leaders experienced during the 1940s. Through her characters, Powell also comments on how men reacted to women's newfound freedoms.
Why New York City? Why fashion? The shift from Paris as the fashion capital of the world to New York City occurred as a result of three major factors—New York's location, its reputable publishing industry, and its "extensive institutional infrastructure, including specialized services and trade associations, that emerged to support ready-to-wear production" (Rantisi, 87). New York City's "structural conditions," which refer to its role as the "transportation hub for the US Eastern seaboard," its budding "retail market along 5th position in publishing during the period leading up to the 1940s, were crucial to the city's ability to become the disseminator of fashion style and information (Rantisi, 88). Because of the influx of immigrants through Ellis Island in the early 20th the garment industry were established in New York City. Through mass manufacturing and "Fordism," tailors and home sewing had all but disappeared and in their place arose department stores and textile production factories. Mass manufacturing also revolutionized who was considered "fashionable"—in the days of haute couture, only affluent families had access to fine clothing, but once WWII and rationing hit America and its European allies, haute couture was shut down and clothing that used as little fabric as possible became the new "chic" (Mason, 74). The American sportswear look did just that, making "casual" attire attractive for the first time.
By slightly altering the resources that were already in place—"existing trade journals, fashion magazines, retail shops, design schools, and professional design talent" which included institutions such as The Pratt Institute, Parsons School of Design, The Costume Institute, Fashion Institute of Design and Technology (now known as FIT), the Educational Foundation for the Fashion Industries (established in 1944) and The Fashion Group (a 1930s women's group whose goal was to advance women's visibility in business)—New York City's small fashion community was able to encourage, support, and advertise the "American Look" across the globe (Rantisi, 104). Additionally, the publishing industry and its cohorts pushed American fashion to the forefront of the world's conscious during World War II. Vogue, Harper's Bazaar, WWD (established in 1910), and fashion writers Lois Long of The New Yorker and legendary fashion writer Virginia Pope of The New York Times took the lead on fashion journalism, covering American fashions and designers, such as Norman Norell, Pauline Trigere and Claire McCardell in their publications (Rantisi, 105).
Another crucial market that made New York City suitable as the new capital for fashion was its position as an already established advertising and marketing center. Fashion magazines in the 1930s did not explicitly show that women were working outside of the domestic sphere, but they began to allude to women having more opportunity to leave the home. The shift to pictorial advertising through photography became an important "channel for promoting non-elite fashion" (Rantisi, 95) and fashion editors jumped on this innovative technology: Carmel Snow, who worked 11 years as fashion editor for Vogue before becoming Editor-in-Chief of Harper's Bazaar in 1934, brought pictorial photography (showcasing "real women" in editorial images instead of illustrations) and "outsider photography," an editorial style where "the women depicted in these photographs—who after all represented their readers—began to be cast in active as opposed to the passive roles traditionally assigned to them by art" (Harrison 1994 via Radner, 89), to Vogue and Bazaar, setting women in motion. When World War II arrived, magazines started openly encouraging women to work, showing advertisements with women working in factories, for The Red Cross, and other service jobs. During the war, fashion advertisements were crucial in recruiting workers and images "of competence in wage work" were emphasized (Pantone, 240). Illustrating the shift from women working in the private (home) to the public sphere became not only acceptable, but necessary for the country at large and for the war effort (Buckland, 146). The photographs circulating in fashion magazines reimagined how women were thought of in relation to spaces outside of the home. The female characters in The Locusts Have No King, were products of this history; as advertisements and fashion editorials showed a movement away from passive and towards the active, Locusts follows suit: the novel has barely any representations of the passive female of earlier decades. While not all of the female characters possess jobs, they are independent from males through other means—sexually and socially—defining their lives on their own terms.
To understand a character, or to get a sense of what they look like, it is crucial for an author to establish a sense of self. Many times, this image is incomplete without mentioning dress. Fashion is not only an indicator of personal style and self-expression, which reveals interior personality traits, but also serves a political function: fashion as "conspicuous consumption" reveals the economic and social relations a person possesses (Veblen, 8). Powell uses dress to connect the characters in Locusts to their status positions in New York City. The descriptions of the main characters, as well as how their attire speaks to their economic and social freedom, would be incomplete without a proper description of ancillary characters who do their part in "setting the scene." The first woman we are introduced to in Locusts a stranger, a female who frequents a bachelor's bar, the "Florida Tavern," where Frederick Olliver goes before meeting Lyle Gaynor, his lover, at a publishing party. The woman at the Florida is sexually aggressive, open, and undeniably chic, approaching Frederick wearing a "black sweater and slacks…her long feet in ballet slippers hooked over the rungs of the bar stool" (Powell, 5). What Powell is indirectly indicating in the woman's attire is the new American "sportswear"aesthetic. This style of dress, promoted by Diana Vreeland, the fashion editor of Harper's Bazaar in the 1940s, is the "informal, sporty American look," which included "ballet slippers, corduroy, and synthetic fabrics like Celanese as substitutes for wartime scarcities" (Tomkins, 154). Additionally, "Vreeland herself wore black slacks (or a long black skirt) and a black turtleneck or tunic, with a brilliant-colored scarf to set off her blood-red lipstick, rouged checks, and lacquered blue-black hair" (Tomkins, 154). Sportswear and "casual wear" was a look that included trousers or slacks as a staple in a woman's closet, and became a "sign of cultural negotiations about gender and economic power" (Buckland, 142); Sportswear "implied a new physical freedom—a new relationship to the body" (Radner, 93), embodying women's growing independence outside of the private sphere. This unnamed character, for we do not catch her name, addresses Frederick boldly, "How about sticking around here for a while? Have a drink. I gotta talk to somebody. No? Okay, okay" (Powell, 6). Being the initiator in a potential sexual liaison, this woman clearly has no qualms about her forwardness and is confident enough to express her desires openly. Although Frederick dismisses her advances, it is clear that this woman possesses the autonomy and power to assert herself in a "man's world." As such, the first interaction Frederick has with a woman in the novel sets the stage for the other women he will encounter throughout the story.
The second bar, "America's," is another space that offers an inside look into the night life of New York City in the 1940s, and into the women that frequent these places:
Wherever he went he found advertising men…were not with their wives but with stylists, camera ladies, women's-angle-women from their offices, all emotionally fulfilled by making fat salaries, wearing Delman shoes and Daché hats, and above all being out with The Office and talking shop. These were the women who had won the war, the spoils were theirs; these were the women who had found a swansdown paycheck warmer in bed than naked Cupid (Powell, 8).
Men, instead of attending to their "petulant wives, who, if from the South, had been the prettiest girls in Tallahassee" (Powell, 7), were more intrigued by the "stylists, camera ladies, women's-angle-women" who were involved in the business world and fashion-related industries. These women, though interested in sex, were not wholly consumed by being wooed by a man and were more concerned with "making fat salaries," so they could wear particular status items. Buckland's research on Barnard's theory of dress elucidates that "fashion and clothing may be the most significant ways in which social relations between people are constructed, experienced and understood" (Buckland, 141) and, as Radner makes clear in her research, "fashion and authority are related" (Radner, 93). In context, it is clear that these career women in Locusts who were working in the advertisement offices, and fashion studios were aware of the power their clothing had on men, and what fashion could do for women both professionally and personally.
Moreover, Powell's use of the brand Delman, a shoe company that was "synonymouswith footwear innovation in the 1940s and 1950s" (Wiesman, 1), was also known for its 1940's creation of "sandals with lacing up the calf…A shoe that drew the observer's eye up the leg was daring" (Wiesman, 1) was deliberate; a shoe that was expensive and daring, Delman's brand personified women's economic power and sexual openness in the late '40s. In addition, Daché hats were designed by Lilly Daché, a French transplant to New York City, who was "better known at the time than dress designers" (Morris, 1), with the likes of Marlene Dietrich, Audrey Hepburn, and Carole Lombard as just a few examples of her celebrity clients. These references, then, reveal how women desired (and could buy with their own means) clothing that was expensive, yet could also evoke their newfound economic and sexual independence.
The sexual freedom that these unnamed characters exude is also evident in the two main female "leads" of the novel: Lyle Gaynor, the married yet unfaithful Broadway playwright, and Dodo, Frederick's second mistress from Baltimore, Maryland. While Lyle possesses a more quintessential beauty, Frederick's attraction to Dodo does not lie in her prettiness, but in the way she carries herself: "It struck him that had never seen a woman so pleased with herself; this satisfaction was so tremendously out of proportion to its cause that you were attracted by it and not by the appearance itself" (Powell, 24-25). Dodo's confidence is manifested in her dress; she is described as "evidently proud of her extreme slenderness for her gray-striped green wool dress followed every bone and sinew snugly, and from the demure way she thrust out her high-pointed breasts you would have thought they were her own invention…That she had no misgivings as to her value was clear" (Powell, 16-17). Dodo's acknowledgement of her body and the adornments on her body express her self-awareness as a sexual being, which she continually uses to her advantage. Throughout the novel, she does not only sleep with Frederick, but with countless other men. As Frederick divulges, "The implication that Dodo was familiar with many other male bodies, far from disturbing him, made him feel safe and even flattered…" (Powell, 93). During the 1950s, Dodo's character would be viewed as highly promiscuous, but during the 1940s, her sexual forays are acceptable, especially for women in New York City. Comparably, Lyle's lifeless marriage to Allan is made bearable by her affair with Frederick, and it is clear that marriage is not the most important thing on either of the woman's agendas. Affairs then, though not outwardly publicized (until they had fizzled out) were commonplace, with married women and married men disregarding the pact of monogamous companionship several times over.
Sexual deviance—or at least, sexual experimentation before (and during) marriage—was also not off limits to fashion magazines of the 1940s. It is rumored that Diana Vreeland had similar infidelity problems to those Lyle experienced with her own husband (Dwight, 2), and Carmel Snow was accredited with producing a "very racy magazine" for her time (Tomkins, 155). Using Richard Avedon's work to express the "postwar shift from the clothes themselves to the life images that designers wanted them to project—images of freedom and spontaneity and youth, for the most part, with an increasingly strong underlayer of sexuality" (Tomkins, 156), Snow activated the movement away from domestic propriety and chaste ideals about women at Harper's Bazaar.
Accordingly, the women who ran the magazines were also no strangers to liberal sexual escapades. Madge Garland, the fashion editor of Vogue UK starting in the 1930s, had a personal life and sexuality that transgressed from the traditional heterosexual relationship, and she had several long-term female partners throughout her career. She was a self-made woman and even when her father refused to let her attend college, she made her way through the public domain without his help (Cohen, 270). Although her homosexuality was not under wraps, Garland's family had her married to Ewart Garland, a family friend in the early 1920s (Cohen, 250), but she continued to work as an assistant for Vogue UK, because she "was unwilling to jettison her career and run the marital household" and shirked all maternal responsibilities ("it would be 'instant divorce' if he ever got her pregnant") (Castle, 8). Their marriage was brief, and soon after she became involved with her boss, Dorothy Todd, Vogue UK's editor-in-chief (Cohen, 254).
Garland's "hyperfemininity," as Cohen puts it, "masked both her ferocious psychological strength and her homosexuality" (Castle, 7) and for two years, Garland and Todd were able to work and transform Vogue UK into a coherent discourse of literature, art, design and style, forever changing the way fashion journalism operates, and taking fashion,and its documentation, from the trivial to the significant (Cohen, 244). However, their "lesbian power couple" status was a spot of contention for the "not so hidden homophobia of the London fashion world" (Castle, 8). Coupled with their homosexuality and their drastic changes to the magazine, along with the ambivalence that was created by an increasing number of women entering the workplace and leaving home to pursue education, both influencers were fired from Vogue in 1926 (Castle, 8). Yet, Garland's work did not end there: she returned to Vogue UK in the 1940s as fashion editor, and her later work became a model for future fashion writers and runway critics (Cohen, 445).  The sexual and economic liberty Garland exuded shows not only how women could flourish in the fashion industry, but also how there were still obstacles associated with too much liberation (especially with women's sexuality).
The references to the fashion world keep multiplying in The Locusts Have No King, and by the third bar, Frederick is watching an encounter between an "old newspaper man now in public relations" and "two ladies…both of them high in the business world—one in Gimbel's or Altman's department store, the other in real estate" to ask their advice on a publishing deal (Powell, 20). Powell's use of the department stores, Gimbel and Altman's, connects the woman to a long history of fashion and taste in New York City: Gimbel's, an upscale department store, was most known for its rivalry with Macy's (to distinguish itself from its neighbor, Gimbel's used the slogan "Select, don't settle"), and for its purchase of Saks Fifth Avenue during the height of its success (Ferry, 49). If the woman worked at Altman's, a similar history unfolded; "an internationally known retailer of fine furniture, clothing, silks and carpets" and its leading position as the first large-scale department store to move to Fifth Avenue, Altman's reputation in New York City was one of luxury (Barmash, 1).
In response to the public relations man, "The ladies paused in the midst of their comparison of income-tax to declare that Mooney was certainly the best there was, and they only wished they had his accounts" (Powell, 20). Here, Powell acknowledges that women were not only in the same spaces as these male publishers and public relations men, but were valued for their opinions on business ventures. "Personally I lust for respect," Lyle retorts after her husband, Allan, nags her for her classical upbringing and education. Lyle's character in the novel occupies three major roles: that of a successful Broadway playwright, an adulterer (a lover), and a wife, with the latter being the lowest priority on her to-do list. Though her marriage, at the outset, might have been for love or for his knowledge of the theater world, when we catch a glimpse of the relationship, Lyle's love for Allan has disintegrated and she no longer needs him to teach her the ropes.  Allan's disability—he is restricted to bed rest—means that he is only able to contribute to the duo's success by writing plays, but "the worry of rehearsals, revisions, try-outs and castings were now entirely on her shoulders" (Powell, 105). However, this does not phase Lyle and "was the best thing that could have happened, and resulted in their increasing success, for Lyle was thus given opportunity to humanize and twist the rigid conventional framework of Allan's plots" (Powell, 105). Lyle has a powerful role in her business—one could say the upper hand—running the show and creating most of (if not all) the plays. Her personal fulfillment comes from her talents and success of operating a major theater company, not as a wife. In Locusts, Lyle is seen constantly engaging in work parties and events, and it is rare that she catches a moment alone with Allan (even when they do get time together, they are discussing work). She is not afraid of her "boss," much like Carmel Snow, who was "reputed to be the only person other than Marion Davies who was not afraid of Hearst" and, like Allan, Hearst had no control over restraining Snow's talent (Tomkins, 153).
Lyle's way of life is in line with many of the fashion editors of the time: Carmel Snow and Diana Vreeland, in most instances, put their careers before their husbands. Carmel Snow was reportedly famous for her work ethic and "the magazine was the center of her life," (Tomkins, 157). Her husband, whom she married in 1926, was "a good-looking, very rich bachelor with impeccable social credentials…and no real vocation of his own, but for some reason—perhaps because he had no choice—he did not object to his wife's having a career and leading a life of her own" (Tomkins, 150). At one point in Diana Vreeland's career her husband, a banker, moved to Canada for his job, while Vreeland stayed in New York to keep her editorial position at Harper's (Dwight, 1). Both women were the breadwinners for their families, and their creative genius garnered respect. Carmel's innovative conceptual designs, her tenacity in finding new talent, and her integration of culture into the magazine (which included art, literature, political news, and features of Hollywood stars and socialites), gained public and professional recognition, and she was awarded the title, "the magazine editor as auteur" (Tomkins, 153). Lyle's authority is also valued by other professionals outside of the theater world; Edwin Stalk, editor of The Swan, compliments her graciously as both a playwright, ("She writes them ['damn good plays'] and pretends he [Allan] helps," (Powell, 130)) and also recognizes her talents outside of her profession: "As a matter of fact, I find her exceptionally helpful regarding the magazine. I never dreamed she was so brilliant outside of her own field" (Powell, 131).
In concert, Diana Vreeland transformed the idea of the fashion editor. "Photographer Richard Avedon credits Vreeland with starting a 'totally new profession.' Before her, the fashion editor was a society lady putting hats on other society ladies" (Avedon via Dwight, 3). Vreeland helped transfer the movement away from haute couture towards the American sportswear aesthetic stating, "I do not believe we should put in [the magazine] s voice via qtd. at, Dwight, 1). This "personality" that Vreeland is referring to is more or less equivalent to "women of substance"—women with active professional, social, and personal lives—women like Lyle. Consequently, the editorial spreads in Harper's mirrored Vreeland's ideas of the woman as a political subject. Congruently, "The shift [towards American sportswear] implied another setting, a new mise-en-scéne for the fashionable woman…for practical and aesthetic reasons the formal attire of the socialite (though still important to the scene of fantasy that fashion magazines offer their readers) no longer constructed as the locus of 'correctness' and 'authority'" (Radner, 95). Vreeland invoked alternative imaginings of women—displaying active women outside of the home—through her work and was also able to infuse "flamboyant absurdity" into her written column, which "carried a message, a subtext, which the people at Harper's Bazaar knew perfectly well that fashion was not that serious" (Tomkins, 154). A new type of woman was forming in the 1940s—one that was free to feel flamboyant, liberated, and open about her professional pursuits, as well as her sexual conquests, and Powell bathed her characters in these traits.
Lyle's success does not come without a cost, however, and her relationship to Frederick is frequently strained because he believes that she puts her professional pursuits before her love of him (which she does). Like Lyle, Diana Vreeland's marriage struggled through affairs because she emphasized her career over her role as wife. While her husband was in Canada during World War II, he was presumed to have several affairs, to which Vreeland "looked the other way" (Dwight, 3). Yet, her husband did attend parties and supported her career in fashion, which contrasts to Frederick, who despises Lyle's friends, social circle, and way of life, resenting that his love for her is second fiddle to her career. "'You mustn't forget your professional interests, even if I do forget mine,' Frederick said, blazing as he always did at the primary importance of her work, work that bound her to her husband even more than did duty or pity" (Powell, 42). Frederick constantly jumps to conclusions and assumptions about Lyle, always conflating her career with her love for Allan, which we know is false, especially because Lyle repeatedly wishes that Allan were out of the picture (Powell, 38). Frederick projects his fears onto Lyle's success, for she outshines him time and time again in the business world. He is acutely aware of his inferiority when he attends Lyle's social gatherings, feeling that "Lyle was invulnerable, but [he] himself, was not…All these guests were Lyle's people, a success clique; there was nothing about them he liked, understood or even cared to understand" (Powell, 33). Lyle, then, operates as a buffer for Frederick's own disappointments at the beginning of the novel. He regards her world with a pompous, intellectual "better-than-you" air to safeguard himself from being an outsider. It is only after Allan abandons Lyle for a mistress, and Frederick's career catapults into Lyle's social stratum (when his financial success is equal to her own), that he is ready to take her back (Powell, 279).
Frederick's character is contradictory in many ways, and is especially confusing when he confesses jealous admiration towards Lyle. Because of his lackluster success, he struggles with Lyle's reputation as a "career woman," a woman who"has it all": a rewarding vocation as a Broadway playwright, a husband, a love affair with Frederick himself, and business connections and social capital that he himself lacks. Like many men, he writes off fashion as a feminine space, something that does not concern him and is "an outrageous tax on the brain" (Powell, 11). His own style mirrors his refusal to take part in Lyle's world, and in several instances he is rebuked for his shabby attire. Even his mistress, Dodo, an out-of-towner, reproaches his appearance multiple times and at one of Lyle's social gatherings, the esteemed publisher, Mr. Strafford, discloses that "you don't get prestige in this country with a frayed shirt-cuff" (Powell, 28), directly commenting on Frederick's dress. Frederick is thus unaware of how clothing effects people's perceptions of him and, as Mr. Strafford suggests, Frederick's blindness to fashion and fashionable tastes is a detriment to his career.
Frederick's views on Lyle's profession are also noteworthy, for "it angered him that she should think his career was, like hers, something to be coddled by social contracts, little flattering gestures, an eager nod in the right direction…She had wanted him to come in order to 'contact' Bricker or Beckley" (Powell, 32).  At its core, this insight into Frederick's thoughts exposes that he does not respect her job, the theatrical sphere, or her social contacts, and believes that her profession is based on superficial, feminine social codes. Subsequently, The Locusts Have No King is also an illustration of men dealing with women's newfound professional power. It is obvious that Frederick has problems with Lyle's superior position and social capital, but Powell also shows that other men are frustrated by women's newfound position in business. As a writer in Forbes complained in 1947:
The basic, brass-tack proof of feminine success in industry…is simply that the industries historically dominated by men are the vital industries—manufacturing, banking, railroads, and the like. The second is that feminine success in the exploitation of women proves nothing but the fact that women are by nature feminine (Clifford, 77).
By attempting to discredit women's success in the business sphere and assert that their professional achievements were only a result of their sex or of their "innate knowledge" of the feminine, this Forbes article exposes men's anxiety about women thriving outside of the home. Even when Richard Avedon, world-renowned photographer, met Diana Vreeland for the first time, he struggled with working for a woman: "I went back to Carmel Snow and said, 'I can't work with that woman. She calls me Aberdeen.' And Carmel Snow said, 'You're going to work with her.' And I did (to my enormous benefit) for almost 40 years" (Dwight, 1). The mixing of genders in the workforce during the 1940s upset traditional gender roles of the period; men responded "ambivalently at best to the contradictory, multiple femininities that emerged within the workplace during the war years," due largely to the fact that women were competing and outperforming them in their jobs (Patone, 241). Marie Clifford's scholarly article, "Working with Fashion: The Role of Art, Taste, and Consumerism in Women's Professional Culture, 1920-1940," articulates how women were able to assert themselves into the business world through "feminine" work that combined consumption and femininity (Clifford, 64) and thus, "use[d] 'fashion' tactically in a bid for pleasure and power against patriarchy" (Radner, 93), reworking traditionally feminine domains and placing them within the patriarchy to counteract male domination. Therefore, even though economic and career opportunities were more accessible in fashion-related industries because a "feminized" field was less threatening than working within a traditionally "male"-defined field (Clifford, 62), women were making strides in a man's world, which meant that any women working outside of the home offset the patriarchal hegemony that men held over the business world.
Two friends of Lyle Gaynor, Caroline Drake, a silverware stylist, and Lorna Leahy, a commercial artist, who most closely mirror the fashion-related work of Carmel Snow, Diana Vreeland, and Madge Garland, are also viewed with apprehension by men for their clout in their respective industries. Caroline and Lorna appear several times throughout the book and represent "career women": "men used the term to indicate a girl who made more than he did and who was unforgivably good at her job when he was not able to hold one" (Powell, 274). Accordingly, Frederick's portrayal of Caroline, in particular, is hostile and antagonistic, describing her personality and sexual endeavors as highly aggressive ("Her fingers clutched his thigh with the iron determination of a medieval torture device—(he was literally black and blue)" (Powell, 220))—and she is considered unattractive for being so assertive, despite being "meticulously groomed" (Powell, 78). Her forceful nature, which gives her financial success, at the same time, damages her love life. As a result, at the end of the novel, whereas Lyle and Dodo find their respective mates, both Caroline and Lorna are partner-less. Lacking successful long-term relationships, they acknowledge that being a "career woman" is not without consequence—the punishments being that these women are left partner-less. Nevertheless, both characters do not give up their careers to find a man (who they already know will be jealous of their incomes), but instead find solace in their female camaraderie.
"'You can never tell what men are likely to go for in this town,' Dodo burst forth, her brows knitting unhappily. 'There just isn't any point. You could read Harper's Bazaar and Vogue all day and still you couldn't tell'" (Powell, 212). While Dodo attempts to mirror the fashions in these magazines, she misses the point: the editors during the 1940s were not guiding women into a man's loving arms. Rather, they were providing visual representations of their lives—lives fulfilled by professional interests, culture, art, and sexual experiences, freedoms that did not promote marriage as the key to success or happiness. "Dress gives shape and color to social distinctions and inequalities and legitimizes them" (Buckley 141), and the movement towards the American Sportswear look in the wake of the Second World War visualized the shifting gender roles and performances of the 1940s. As satirical as the novel may be, The Locusts Have No King rings true to the atmosphere of New York City in the 1940s. Dawn Powell book is an artifact of its time, offering insight into women's tactful and deliberate use of clothing as a means of power. Thus, this post-war novel is an illustration of how the fashion industry shaped the representation of women in literature, and explores women's sexual and economic freedom that was unique to this time period—a move towards women's liberation that was soon to be smothered by the Cold War and the domestic revival of the 1950s.
Works Cited
Barmash, Isadore. "No Bidder To Rescue B. Altman." The New York Times [New York City] 18 Nov.
1989: 1. Print.
Buckland, S. S. "Fashion as a Tool of World War II: A Case Study Supporting the SI
Theory." Clothing and Textiles Research Journal 18.3 (2000): 140-51. International Textile and
Apparel Association. Web.
Castle, Terry. "You Better Not Tell Me You Forget." Rev. of All We Know. London Review of
Books 27 Sept. 2012: 3-11. London Review of Books, 27 Sept. 2012. Web. 4 Dec. 2014.
Clifford, Marie. "Working with Fashion: The Role of Art, Taste, and Consumerism in Women's
Professional Culture, 1920-1940." American Studies: New Voices in American Studies 1/2 44
(2003): 59-84. JSTOR. Web.
Cohen, Lisa. All We Know: Three Lives. New York: Farrar, Straus and Giroux, 2012. Print.
Dwight, Eleanor. "The Divine Mrs. V (Excerpt from the Book Diana Vreeland)." New York
Magazine 2002: 1-4. Web. 4 Dec. 2014.
Ferry, John William. A History of the Department Store. New York: The MacMillian Company, 1960.
Mason, Meghann. "The Impact of World War II on Women's Fashion in the United States and
Britain." University Libraries//University of Nevada (2011): 1+. University of Nevada Archives.
Web.
Morris, Bernadine. "Lilly Dache, 97, Creator of Hats For the Fashion Set of Yesteryear." The New York
Times [New York City] 2 Jan. 1990: 1. Print.
Patnode, Stephen R. ""Keep It Under Your Hat": Safety Campaigns and Fashion in the World War
II Factory." The Journal of American Culture 35.3 (2012): 231-43. The Journal of American
Culture. Web.
Powell, Dawn. The Locusts Have No King. New York: Yarrow, 1990. Print.
Radner, Hilary. "Roaming the City: Proper Women in Improper Places." Spaces of Culture: City,
Nation, World. By Mike Featherstone and Scott Lash. London: Sage, 1999. 86-99. Print.
Rantisi, Norma M. "The Ascendance of New York Fashion." International Journal of Urban and
Regional Research 28.1 (2004): 86-106. International Journal of Urban and Regional Research.
Web.
Schremph, Kelly. "Bustle." Bustle. Bustle: Entertainment, Oct. 2014. Web. 08 Dec. 2014.
Tomkins, Calvin. "The World of Carmel Snow." New Yorker 7 Nov. 1994: 148-56. Print.
Trilling, Diana. "Powell's People." Rev. of The Locusts Have No King. New York Review of Books 14
Apr. 1988: 1-2. Print.
Turner, Nan. "Deprivation Fashion." Department of Textiles and Clothing (2011): 1-21. University of
Cailfornia, Davis. Web. 22 Nov. 2014.
Veblen, Thorstein. "The Theory of the Leisure Class: Dress as an Expression of the Pecuniary
Culture." The Meaning of Style Compendium (1901): 105-16. Print.
Vidal, Gore. "Dawn Powell, the American Writer." Rev. of The Locusts Have No King. New York
Review of Books 5 Nov. 1987: 1-6. New York Books. The New York Review of Books, 5 Nov.
1994. Web. 4 Dec. 2014.
Wiesman, Katie. "Almost a Century of Stylish Shoe Leather." The New York Times [New York City]
16 Feb. 2010: 1-4. Print.
Wilson, Edmund. "Dawn Powell: Greenwich Village in the 1950s." Rev. of The Locusts Have No
King. New Yorker 17 Nov. 1962: 13. Dawn Powell Presented by The Library of America. The
Library of America, 1993. Web. 4 Dec. 2014.