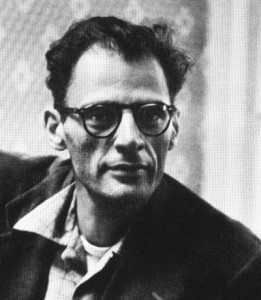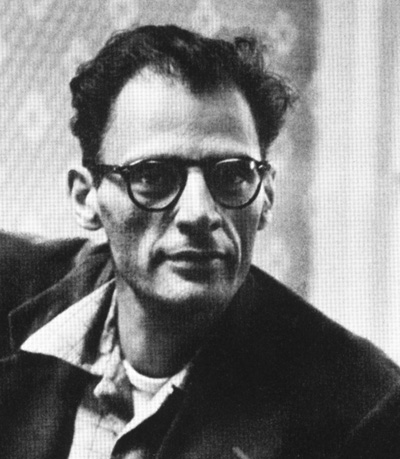 In 1949, three weeks after the opening show of his masterpiece Death of a Salesman, Arthur Miller published an essay that gave his audience a view into the political and social agendas of his plays. "Tragedy and the Common Man" defended Miller's conviction that tragedy, a form traditionally reserved for characters of high rank or noble blood, was in modernity a narrative structure more suited to the identity and life of the common man. This essay illuminated his intentions in his most recent works, All My Sons (1947) and Death of a Salesman (1949), while also giving his critics and audiences a template through which to analyze the plays he produced in following years.
Although "Tragedy and the Common Man" has been treated in a sizeable body of work on tragedy in Miller's dramas, its grounding in the cultural politics of the 1930s has been largely ignored. As Miller came of age during the populist reign of New Deal politics and paradigms, these years were an exceedingly influential period for his politics and work. This paper seeks to locate the political impulses that brought about the essay's publication in Miller's background in the "People's Theater" of the 1930s. Furthermore, it contends that while Miller's tragic vision drew strongly upon the social realist tradition of the Popular Front from which the playwright emerged, his use of tragic form added a wider validation of human suffering and dignity which appealed to the audiences of postwar society.
"Tragedy and the Common Man" claims that classical tragic tradition has heretofore held a very specific and limited role in the public eye. It has been considered "fit only for the very highly placed, the kings or the kingly," writes Miller.[1] This gives tragic theater a certain archaic quality, as well as a rather elitist one. However, Miller denies the belief that the tragic genre deals exclusively with great people and great events. "If the exaltation of tragic action were truly a property of the high-bred character alone," Miller argues, "it is inconceivable that the mass of mankind should cherish tragedy above all other forms, let alone be capable of understanding it."[2]
But Miller sees something exceedingly valuable in the tragic form that is not limited to the noble or godly. Tragedy for him derives from "the underlying fear of being displaced, the disaster inherent in being torn away from our chosen image of what or who we are in this world" and, as he notes, "it is the common man who knows this fear best."[3] Futhermore, the tragic form demands that its audience learn from the misfortune of its heroes. It brings enlightenment and knowledge about the "right way of living in the world," setting it apart from the pathetic form which lacks this key element of moral and social education.[4] For Miller, it is the common man who in the years after the Second World War grapples with his place in the world and with self-judgment and assessment, making tragedy most meaningful and relevant in a democratic, accessible context that deals with the lives of everyday people. Evident in this essay are the parallel roles of realist and tragic theater, and Miller's masterful manipulation of these modes relies on careful picking and choosing between elements of each.
This theory of tragedy and the predominance of the form in Miller's works have spurred a large body of work on Miller's relationship to tragedy. A trend several scholars follow is taking Miller's observance of tragic tradition and tracing its development through his works. This view, adopted by Clinton Trowbridge in 1967, holds that "nothing is clearer from a study of Miller's plays than the fact of his growth toward tragedy, as he conceives it, and away from pathos." Trowbridge shows how Miller's plays increasingly aligned themselves with the characteristics of classical Greek tragedy, beginning with Death of a Salesman. Willy Loman, Trowbridge argues, fails to conform to the classical tragic hero because Miller writes him as a victim, rather than an active participant in his own downfall.[5] The Crucible presents the next rung on Miller's tragic progression as a play. Miller's characters are self-aware, and most importantly, the play surpasses pure propaganda against a societal evil that must be overcome. The nature of the play as an allegory for McCarthy's witch hunts enhances its message that anyone may succumb to the fanatic finger-pointing that builds the play's action. The evil to be overcome is not simply external, but an internal weakness that is present in us all. Trowbridge continues this line of analysis throughout Miller's body of work, arriving at the conclusion that "as his career now stands, [Miller] hovers between pathos and tragedy, our most important and our most serious playwright."[6]
Scholar Julie Adam takes a different approach, identifying certain elements in Miller's plays that recall the populist, democratic sensibilities of the 1930s amongst which Miller developed as a successful playwright. Among these are a glorification of the problems of the common man, and the contention that "the more private people become and the more separate from the society of which they are both product and producer, the greater their estrangement and sense of loss."  However, Adam fails to connect these values with Miller's political past, thus leaving the picture of Miller as a social tragedian incomplete. Several biographies on Miller's life and works, although grand in scope, also neglect Miller's roots in Marxism and 1930s populism. Furthermore, several scholars focus on the incompatibility of the tragic form and Miller's role as a social realist, and yet once again fail to explain the various political forces at play in these two genres. What is largely absent in scholarship on this subject, then, is the origin of Miller's fascination with the tragedy of the common man, as well as a wider analysis of the implications of this view regarding American society during the time Miller was writing.
In order to fully understand Miller's plays, however, a brief introduction to the both forms of drama is necessary. Since its origins in 5th century BC Athens, the tragic form has undergone countless transformations and modifications.[7] Aristotle, Plato, Shakespeare, Hegel, and Nietzsche have joined the ranks of countless other writers by expressing their own unique notions of what constitutes tragedy. To offer one all-encompassing definition of tragedy would be reductive and dismissive of the complexity of the tradition. However, George Steiner, a premier scholar of tragic literary tradition, offers a fairly succinct idea of the most basic principles of this mode:
In tragedy, there is a wildness and a refusal running against the grain of middle-class sensibility. Tragedy springs from outrage; it protests at the conditions of life. It carries in it the possibilities of disorder, for all tragic poets have something of the rebelliousness of Antigone. […] In tragedy it is the individual instance of injustice that informs the general pretence of order. One Hamlet is enough to convict a state of rottenness.[8]
As Steiner implies, Tragedy revolves around a tragic figure, or tragic hero, who finds his personal convictions at odds with his surroundings, and takes up arms against these dominating expectations and conditions.[9] As Steiner notes, tragedy depends upon the assumption that individual unrest and the struggle for individual harmony merits the attention the tragic form affords it. Classically, those who warranted this attention were individuals of high rank or nobility.
Instrumental in Miller's development of his theory of tragedy was the social realism of the 1930s. Although realism as a form came of age in the 19th century, well before the Popular Front of the New Deal era, a revitalized realism became "a means of uniting the politics of the people with an aesthetic for the people."[10] Chris Vials, a historian of social realism, identifies it as "the aesthetic of choice of a tremendous social and cultural movement—the Popular Front."[11] Miller identified strongly with this cultural movement, which consisted of a widespread group of communist, socialist, pro-labor individuals who came together to promote anti-fascism in the 1930s and 1940s.[12] The form of realism that predominated in 1930s was unique in several respects. Most importantly, as Raymond Williams notes, Popular Front realism incorporated an element of "social extension."[13] In other words, the narratives of social realist works focused on non-elite, even poor worker types who tended to represent the American Everyman. This element of social extension, Vials notes, "paved the way for a representation of 'the people' to emerge in the twentieth century that was more inclusive and genuinely democratic in scope, creating the preconditions for a genuine pluralism."[14] Social extension encompassed the everyday lives of these modest characters and, along with a general move towards increased accessibility of the arts, would come to be exceedingly influential to Miller's politics both before and after he rose to fame.[15]
The portion of Miller's life that is often overlooked in scholarship is in fact the most influential one to Miller's political development. Miller's first successful play, All My Sons opened on Broadway in 1947, but by this time Miller had already won several awards from amateur playwriting contests, worked for the Federal Theater Project, and dabbled in writing radio plays. The years before his rise to fame show how Miller's politics were shaped, and the origin of the political implications in his later, more successful works. Miller became exposed to the realist populist vision during his time at the University of Michigan, where he enrolled in 1934. His reporting for the Michigan Daily reflects a growing attraction to progressive causes, and during this time Miller became increasingly attracted to a Marxist vision of society to which he would firmly adhere by the end of his time in college.[16] His first byline "above the fold" of the campus paper covered a Student Assembly symposium on "Fascism, Naziism, and Hearst" and other articles reveal growing anti-fascism and pro-labor sentiments.[17]
In addition to fostering the beginnings of his Popular Front politics, Miller's time at the University of Michigan led to the birth of his playwriting career. Miller's turn to playwriting was driven by several factors. Miller listed his early inspirations as "one-act protest plays about miners, stevedores, and the like," and, as Judith Smith notes, "Miller's initial dramatic success cannot be separated from left-wing cultural momentum."[18] His interest in playwriting was spurred by the upsurge in popular theater in the 1930s, and was furthered in a playwriting course where he became familiar with the Greeks, and Henrik Ibsen.[19] These combined forces resulted in Miller's first play, The Grass Still Grows, which won the Avery Hopwood Award in 1936. A manifestation of his burgeoning leftist politics, the play prefigures themes that would later appear in All My Sons. The work features a conflict between private interest and wider social consciousness, as well as a family drama of tensions between father and son.  Its original title, No Villain, reiterates the conclusion of the play: none of the characters is to blame for the conflict, but rather the business-oriented society in which they live is at fault.[20]
In 1937 Miller won a second Hopwood award for Honors at Dawn, which, one judge wrote, "compares quite favorably with other full-length proletarian plays of recognized merit."[21] As Miller's prolific biographer Christopher Bigsby notes, these plays show the beginnings of Miller's hallmark extension of private concerns into the public space of society. These plays "take as their assumption the fact that the theater is not only a social form but has a social function."[22] From the outset then, we see the beginnings of the democratic, leftist politics that would appear years later in "Tragedy and the Common Man" as well as the conviction that theater can be an effective tool in producing concrete social betterment on a wide scale.
When Miller earned his degree in 1938, he moved back to New York City to pursue a career as a playwright. After submitting The Grass Still Grows to the Group Theater, which rejected it for being "too Jewish", Miller was consoled when his application to join the ranks of the Federal Theater Project was accepted.[23] The FTP was one of the largest branches of the Works Progress Administration's New Deal era arts projects. "Federal One" as the combined relief funding for theater, writers, musicians, and artists was informally called, constituted "the most ambitious, innovative, and intensive effort that the federal government had undertaken to foster artistic and cultural activity."[24] Although his employment at the Federal Theater was short-lived due to its disintegration at the hands of the House Un-American Activities Committee in 1939, it presents the best manifestation of the populist politics that would find their way into Miller's tragic vision.
The Federal Theater Project was, as Jane De Hart Mathews writes, "the fulfillment of a long-standing desire to bring together artist and people and to use the uplifting power of art to enrich the lives of ordinary citizens."[25] As another writer put it, The FTP aimed to "preserve not only the bodies of the unemployed from destitution but also their self-respect, their self-reliance and courage and determination."[26] The project shared Miller's belief, which Bigsby identifies in Miller's college plays, that the theater could in fact be a viable form of social transformation and betterment. The FTP was also a dedicated proponent of 1930s social realism, and Hallie Flanagan, its charismatic leader, urged directors to look for plays that "probed America's past, its present, and the richness of its regional diversity."[27]
Michael Denning's The Cultural Front further describes the pervasiveness of the leftist theater in radical politics. The left-wing theatrical renaissance of the 1930s made up an impressive portion of the cultural front, a body of work by largely second-generation immigrants who subscribed to leftist politics of the Popular Front. Denning quotes one New York Communist activist, who recalls how the left theater was "in many ways the real cultural center of the radical movement during the Depression. […] The theater was the center for a very large segment of radical social life."[28] From this cultural and social milieu emerged such organizations as the Group Theater, leftist cultural organizations that comprised a large part of Miller's community of fellow pro-labor, anti-fascist artists.
Another aspect of the People's Theatre politics was its emphasis on theater as a communal venture. Dissolution of the distance between performer and spectator was a key part of the FTP's mission.  "The belief that the union of artist and the people would create a revitalized American art was in the 1930s a rhetorical commonplace and almost an article of faith," De Hart Mathews explains.[29] "Arts for the Millions" as WPA projects were sometimes called, would flourish with audience participation and involvement, for it was only through "intense participation in the creative process" that a true national appreciation for the arts would be created.[30] For the New York FTP, this involvement and integration took the form of Shakespeare performances in schools, and inexpensive tickets to eclectic regional plays such as Eliot's Murder in the Cathedral or the Orson Welles-John Houseman production Horse Eats Hat.[31] The profound leftist values of the FTP, its glorification of regional narratives and common people, and its belief that theater could teach an audience how to better exist in the world, were all vitally important to the vision of theater Miller expressed in "Tragedy and the Common Man."
While the FTP's impact on Miller's politics was momentous, the length of his employment was significantly less impressive. Finding himself jobless in 1939, Miller found a new market for his talent in the recently developed genre of radio drama, and soon began writing biographical dramas for the popular NBC radio show Cavalcade of America.[32] Although Miller often disparaged his work in radio after the war, resenting the constraints imposed upon his subject matter by a commercially sponsored radio, he used his plays' airtime to promote anti-fascism and the war effort, which, although they overlapped with the show's agenda, were also meaningful to him. Most importantly though, Miller's radio work put him in contact with a network of left-wing dramatists who shared Miller's passion for the politics of the radio's cultural front.[33]
With this background on the most formative years of Miller's politics and playwriting, as well as an understanding of traditional forms of tragedy and realism, we can now fully appreciate the ideas Miller put forth in "Tragedy and the Common Man" and their political origins. We can see that Miller's predominant dramatic form is an extension of social realism, most clearly apparent in his choice of ordinary people as his characters and subject matter. The Kellers and the Deevers in All My Sons, the Lomans in Death of a Salesman, and the Carbones in A View from the Bridge are the ordinary people of American society.  From the social realist tradition of the cultural front comes Miller's insistence that it is these ordinary people who deserve attention, and who, most of the time, do not receive it. Miller fulfills the contract of the social realist by "socially extending" his work into the everyday lives of these characters, and uniting his democratic leftist politics with an aesthetic and characters that match them.
In some ways Miller's tragic form and his social realism overlap, demonstrating the way that Miller's brand of tragedy is an extension of the populist "People's Theater" politics in which Miller is rooted. Most prominently, Miller's conviction that theater could be a transformative force in society straddles the ideologies of classical tragedy and the FTP. In 1956 Miller wrote that "there lies within the dramatic form the ultimate possibility of raising the truth-consciousness of mankind to a level of such intensity as to transform those who observe it."[34] A similar conviction existed in Hallie Flanagan's belief in the transformative potential of New Deal theater. What's more, this transformation was communal. "Real understanding of art," writes De Hart Mathews of the FTP's guiding philosophy, "came not from passive observation but from intense participation in the creative process."[35] As Miller himself commented on the project, "It's a great thing. It's a great socializing process. Makes people feel part of the society instead of alienated from it."[36] Betterment through theater could not be pursued solely by the actors, but also by the audience. Only through this collectivity could a transformation be reached.
This philosophy holds undeniable undertones of the Greek concept of catharsis, which Terry Eagleton explains as follows: "Tragedy can perform the pleasurable, politically valuable service of draining off an excess of enfeebling emotions such as pity and fear, thus providing a kind of public therapy" which relies on the communal investment of the audience in the tragic action of the play.[37] The deeply communal emotional effect Miller's work had on audiences is suggested by his recollections of Death of a Salesman's opening night in Philadelphia:
There was no applause at the final curtain. …With the curtain down, some people stood to put their coats on and then sat down again, some, especially men, were openly weeping. People crossed the theater to stand quietly talking with one another. It seemed forever before someone remembered to applaud, and then there was no end to it.[38]
As one critic put the pathos surrounding the play, "what Mr. Miller has achieved somehow seems to belong to everybody."[39] But tragedy also holds an element of enlightenment, which is another manifestation of Miller's belief that tragic drama can educate its audience. Miller notes the origin of the tragic feeling as the total examination of the "unchangeable" environment of society, but "More important," he writes, "from this total questioning of what has previously been unquestioned, we learn."[40] Through witnessing and participating in the tragic hero's fall, the audience comes to a new understanding of what it means to exist in our world.
The tragic element in Miller's works is much more than a revamping of realist drama, however, and at its best it instills in Miller's works an epic quality, an overarching humanity, that sets his plays apart from the "problem plays" of his contemporaries. Perhaps most importantly is Miller's repositioning of human society in the role classically reserved in Greek drama for the gods or fate. Miller's choice in this matter was the latest development in a larger history of the secularization of tragedy. Tragedy depends on the conflict between the individual and his surroundings, which Steiner lyrically frames as "a hidden or malevolent God, blind fate, the solicitations of hell, or the brute fury of our animal blood. It waits for us in ambush at the crossroads. It mocks us and destroys us. In certain rare instances, it leads us after destruction to some incomprehensible repose."[41] In classical tragedy, heroes grapple with the overwhelming power of the gods. However, as Raymond Williams notes in Modern Tragedy, with the secularization of tragedy through the Elizabethan and neo-classical periods "the increasing emphasis on a rational morality affected the tragic action in one important way: that it insisted on relating suffering to moral error, and so required the tragic action to demonstrate a moral scheme."[42] This repositioning of the classical framework caused some critics to label Miller as antipatriotic, but Miller defended himself by arguing that such intense scrutiny of society only came from an understanding that it could be improved.[43] Through this technique Miller heightened the impact of his plays' social criticism to a level beyond that afforded by more traditional social dramas.
Another divergence from the philosophy of 1930s populist drama came in Miller's treatment of the individual.  The vision of human beings as he expresses it in "Tragedy and the Common Man" diverges from the Marxist view he held in his earlier years. As drama historian John Orr notes, the Cold War saw a significant political shift from socialism to liberalism.[44] Indeed, Miller's emphasis on the individual's own role in his downfall led Raymond Williams to classify his drama as "liberal tragedy." "At the centre of liberal tragedy," writes Williams, "is a single situation: that of a man at the height of his powers and the limits of his strength, at once aspiring and being defeated, releasing and destroyed by his own energies."[45] In contrast to social realism, Miller's liberal tragedy shows individuals striving with all their might for acceptance, fulfillment, and validation, but in the end they are brought down by their own actions. Miller's "Tragedy and the Common Man" upholds this definition of his work, describing a hero who pushes against overpowering forces of humanity for individual realization.
Miller most poignantly captures this individualistic liberal impulse in the words of Willy Loman's wife Linda in Death of a Salesman. Linda importunes her son Biff to honor the humble accomplishments of his father:
I don't say he's a great man. Willy Loman never made a lot of money. His name was never in the paper. He's not the finest character that ever lived. But he's a human being, and a terrible thing is happening to him. So attention must be paid. He's not to be allowed to fall into his grave like an old dog. Attention, attention must finally be paid to such a person.[46]
While scenes such as this one certainly demonstrate Miller's valuation of the democratic, non-elite ranks of American citizens, it is not a Marxist vision where the proletariat stands with his comrades as a unified whole, but rather a vision of a society with no room for the individual dreams and aspirations or ordinary people. Miller finds in this the central conflict of his tragedies:
But there are among us today, as there always have been, those who act against the scheme of things that degrades them, and in the process of action everything we have accepted out of fear or insensitivity or ignorance is shaken before us and examined, and from this total onslaught by an individual against the seemingly stable cosmos surrounding us—from this total examination of the "unchangeable" environment—comes the terror and the fear that is classically associated with tragedy.[47]
In depicting common heroes who lay down their lives to preserve their integrity, and who take it in their own hands to combat the oppressive forces around them, Miller glorifies those who are not swept away with the crowd. Surely, these stories are tragic, but they celebrate heroes with so strong a sense of conviction, identity, and individual desire and aspiration that they sacrifice their very lives in the search for these things. Through the search of the individual, it seems that liberalism, not Marxism, is glorified in Miller's later works.
When Miller wrote "Tragedy and the Common Man" in 1949, drama and society were both in periods of transition. In addition to the shift from socialist to liberal ideologies described in the preceding paragraphs, social realist drama was coming under attack in conjunction with a widespread withdrawal from social thinking.[48] And yet Miller's plays retained their immense popularity.  Judith Smith has suggested that this was largely because of the publication of "Tragedy and the Common Man" three weeks after the play opened on Broadway. By offering his audiences a dramatic theory of the play without mentioning it directly, "Miller encouraged audiences to read his portrayal of generic American-ness and his flowing together of past and present as an alternative to historically and socially situated characterization."[49] Tragedy offered Miller a way to circumnavigate the turn away from social criticism in drama, by presenting an expression of humanity rather than society, which, in many ways, it was.
A slight smattering of critics praised Death of a Salesman's social criticism, while many others pronounced that it transcended social concerns.[50] Some scholars have labeled the play "an enlargement of the scope of realistic drama."[51] Others, like Raymond Williams, felt that
Arthur Miller has restored active social criticism to drama, yet he has done so in such a way "as to distinguish his work quite clearly from the ordinary sociological problem-play, for at his best he has seem these problems as living tissue, and his most successful characters are not merely 'aspects of the way of life,' but individuals who are ends and values in themselves."[52]
The curiosity of it was that Death of a Salesman was in fact highly critical of contemporary business structures and capitalist America, but this criticism seemed to loose, if not its relevance, at least its disagreeableness when framed as a modern tragedy. Whether Miller's audience believed Death of a Salesman had transcended social criticism or revolutionized it, the play was immensely successful, and shot Miller to the top of New York's theater world.
Among its other accomplishments, the work furthers the credibility of Miller's belief that "not only is social drama […] compatible with tragedy […] it is in fact the only kind of drama that can be truly tragic, for it broaches the potentially tragic issues of the modern era: the survival of the individual in a society which has appropriated the characteristics of Fate."[53] In a way, Miller's tragedy takes the basic principles of social realism and makes them grander, more momentous, and even mystical. Not only are individuals worthy of attention and respect, but their lives are raised to a destiny and fatefulness that endows them with a greater purpose than realism. Where populist theater sought to better society through community involvement, the catharsis of Greek tragedy offers a communal spiritual cleansing, and the tragic fall of the hero impresses upon us universal truths to be learned and remembered. Where realist drama sets the protagonist in his own everyday world with naturalistic social concerns, Miller's tragic heroes seek ever farther, ever deeper, for their place in that world, and pay the price of falling short.
What is undeniable, though, is that Miller's tragic theory is rooted in the social realism of New Deal era populist theater, and likewise, it holds an essentially optimistic vision for the future. Miller defends himself against allegations of pessimism by writing:
If it is true to say that in essence the tragic hero is intent upon claiming his whole due as a personality, and if this struggle must be total and without reservation, then it automatically demonstrates the indestructible will of man to achieve his humanity. […] In [tragedies] and in them alone, lies the belief—optimistic, if you will—in the perfectibility of man.[54]
Miller used social realist aesthetics to raise more momentous, epic questions about humanity, desire, failure, and fate. Miller's tragic form, deeply indebted to his early experiences as a member of the Popular Front, expands or transcends this form, asking the more timeless question of how we maintain a sense of dignity and purpose in a universe where these things are not guaranteed.  One critic of American drama defined his search for a true American tragedy as such: "Any American tragedy," he wrote, "has to acknowledge the quality of American life in the total universe of history, past and present, real and manufactured, actual, possible, and probable. This is that deepest social setting essential to tragedy."[55] Through his combined use of social realism, populist politics, and modern tragedy, Arthur Miller seems to have answered this call.
Rhiannon Corby
13 May, 2011
---